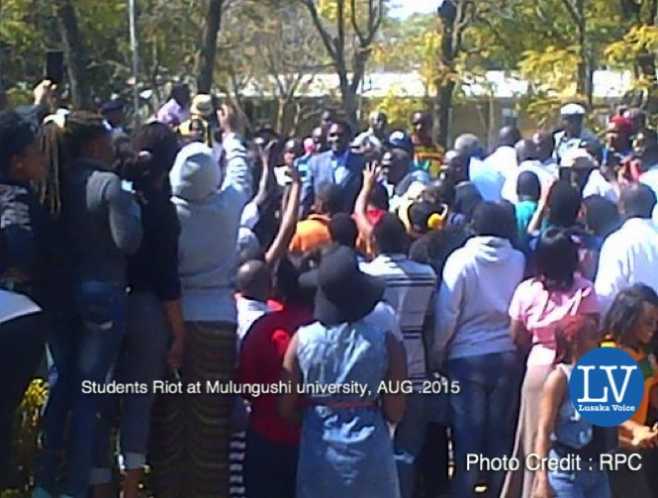 We are thankful to have been informed that after our short visit, address, and demands to Mulungushi University in Kabwe yesterday, management finally allowed the students who are still owing fees to at least sit for examinations while they devise a plan to recover the outstanding amounts that may include withholding their results.
These are the kind of things we always wonder as to whether anyone is really in charge of affairs of our great nation.
We don't believe that's the best way to sort out problems at gunpoint all the time that results in students riots and breaking public property. Such simple decisions in many institutions and organisations should not really wait for us to pressurise. The same with the current impasse currently at the University of Zambia where the teaching stuff have withheld the students results until they are paid their outstanding money and the just ended one at Copperbelt University where the instruction was closed for a length period over a small misunderstanding.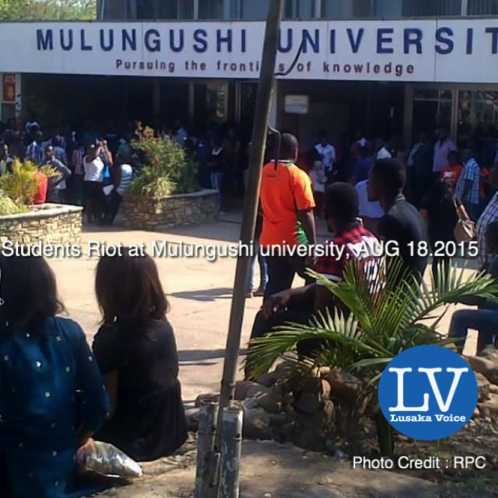 This nation has bigger economic issues to sort out such as the continued loadshedding, the Kwacha has now hit more than K8 to US$1, rising food prices, joblessness and abuse of workers in many sectors such as the mines, rising fuel prices, rising electricity tariffs that have all led to economic downturn hence reduced productivity and economic growth that will result in further job losses.
Engaging and looking for serious investors in the agriculture, tourism, mining, manufacturing and other sectors that will create decent jobs for these youths is our main preoccupation now in UPND as people have higher expectations of us next year.
To the students and youths, my plea is get your NRCs, mobilise in your communities, and hit the ground running for the betterment of our great country. Don't listen to detractors with malicious messages meant to divert attention from these serious issues. To the Mulungushi University monks, momas, mojos, etc please study hard and make us proud. Don't let us down after our interventions.
Time to get together and act is now.
HH
PICTURES:
Students gathering outside the administration block as they wait to be addressed by the Mulungushi university student Union (MUSU) President "Foster Matakala" Who in the morning sidelined himself with the school management not to allow anyone owing the institution to seat for the exams, including the students that paid more than 50% of the fees.
HH promises Mulungushi University bursaries if voted into power next year.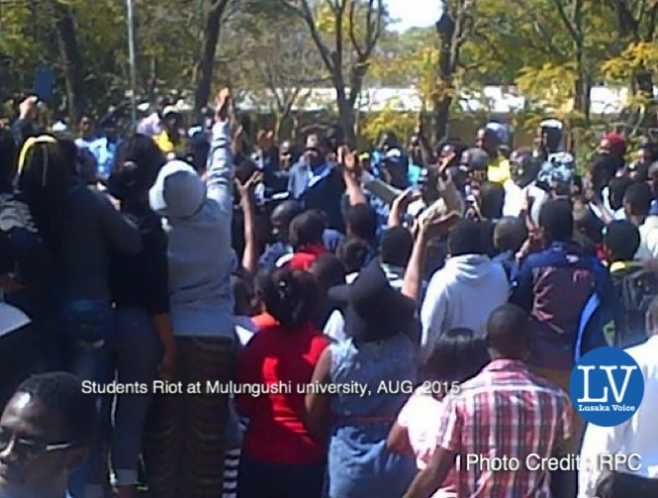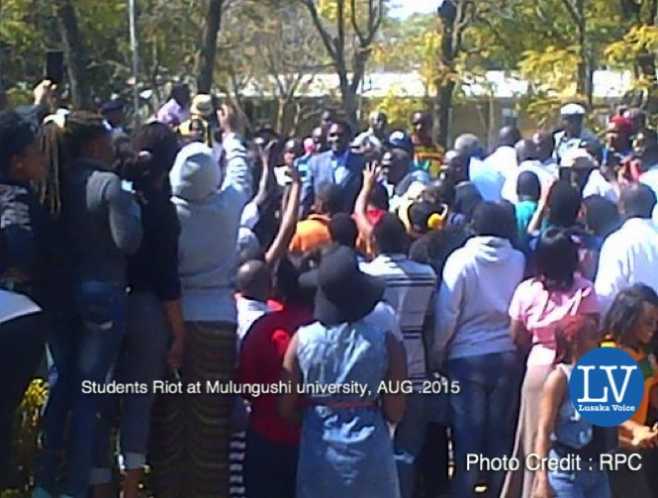 Students with balances have been denied to seat for their exams, as majority of the students are still owing. They took a wreath and started breaking school furniture, blasting fire extinguishers and opening fire points that flooded the administration block. Police officers in riot gear latter came to calm the situation. Right now the officers are guarding the administration block and the Vice Chancellors office. The final exams have since been cancelled and rumour has it that the university might be closed indefinitely.