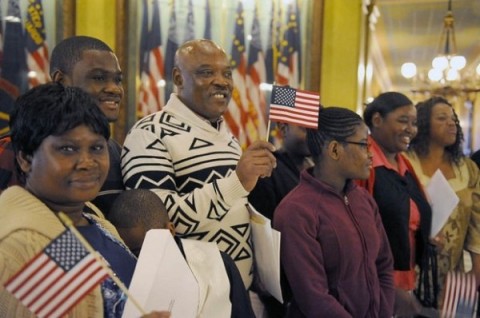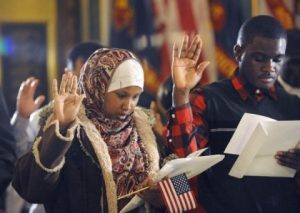 Roy Maweja remembers the weather in New York, when he first moved to the United States from Zambia.
"It was very cold," Maweja, 21, said.
The Lansing Eastern High School graduate, and 24 others from 18 different countries gathered inside the State Capitol on Wednesday for a nationalization oath swearing ceremony by Judge Robert Jonker of the U.S. District Court in front of Governor Rick Snyder, state officials, friends and family.
Douglas Pierce, of the U.S. Citizenship and Immigration Services, said the people sworn in during the ceremony now have all the rights and privileges of being a Unites States citizen
"They can register to vote. They change travel
 on a U.S. passport. They can petition for relatives to come to the Unites States," Pierce said. "They can do everything except become president and vice president right now."
Maweja, now a first generation U.S. citizen, came to the United States in 2008 with his eight siblings and parents, after living in the Congo and Zambia.
"We are the ones that will be telling the stories in the future," Maweja said. "I'm very proud of the struggle we endured, but now I look forward to success."
Maweja, who speaks five languages, has studied at both Eastern Michigan University and Louisville University and plans to transfer to Michigan State University to finish his political science and international relations degree.
Snyder, who is the first sitting Michigan governor to participate in the ceremony, said Michigan is proud of its diversity and rich history of immigrants that helped shape the state.
"You are making are country stronger by joining us," Snyder said to the crowd. "This is a situation where everyone wins."
This article originally appeared onlansingstatejournal.com.