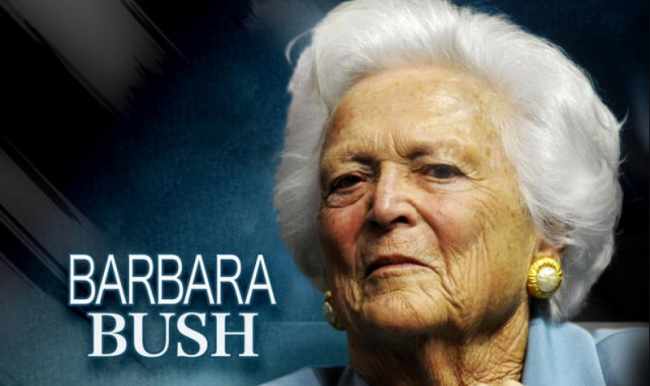 (CNN)Barbara Bush, the matriarch of a Republican political dynasty and a first lady who elevated the cause of literacy, died Tuesday, according to a statement from her husband's office. She was 92.
Only the second woman in American history to have had a husband and a son elected President (Abigail Adams was the first), Bush was seen as a plainspoken public figure who was instantly recognizable with her signature white hair and pearl necklaces and earrings. She became a major political figure as her husband, George H.W. Bush, rose to become vice president and president. After they left the White House, she was a potent spokeswoman for two of her sons — George W. and Jeb — as they campaigned for office.
The mother of six children — one of whom, a daughter, Robin, died as a child from leukemia — Barbara Bush raised her fast-growing family in the 1950s and '60s amid the post-war boom of Texas and the whirl of politics that consumed her husband.
She was at his side during his nearly 30-year political career. He was a US representative for Texas, UN ambassador, Republican Party chairman, ambassador to China and CIA director. He then became Ronald Reagan's vice president for two terms and won election to the White House in 1988. He left office in 1993 after losing a re-election bid to Bill Clinton.
CNN