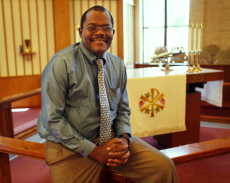 The turning point happened in October for Elijah Mwitanti.
Born and educated in Zambia, Mwitanti found himself being peppered with questions from a predominately white congregation in Roanoke County.
After a roomful of people at St. John Evangelical Lutheran Church peppered the prospective pastor, he asked in return: Can a man who looks like me serve a congregation that looks like you?
People in the pews stood up with roaring claps and cheers for Mwitanti, and he couldn't hold the tears in.
"I had such a huge lump in my throat," he said months later. "It was an incredible validation … they were saying to me, 'It doesn't matter what you look like.' "
Now Mwitanti is associate pastor of the church.
Mwitanti is part of a generation of pastors hailing from countries in Africa and the South Pacific — where Western missionaries spent decades converting people — who are now engaging in what could be considered reverse missionary work.
"Africans are coming to Europe and the United States and evangelizing us the way that we evangelized there," said the Rev. Mark Graham, pastor at St. John's.
As a teenager, Mwitanti once translated for a German missionary in his town in the north central part of the country. He graduated from a theological college in 1991.
From there, he and his family — including wife Kerris and four children — zigzagged across the United States after leaving Zambia.
After exhausting the highest level of religious education in his country, he studied at the Reformed Theological Seminary in Jackson, Miss.
He didn't plan to remain in the United States, he says, but after graduating, he was called to a church near Houston. In 1999, he moved to northwestern New Jersey and worked for a Christian group with missions in Zambia.
He was also pastor of a church in southern New Jersey, and in 2005 took his family to Utah. There he says he led a supportive congregation and made relationships with Mormon leaders, but his children — Semba, Vickie, Heather and Ashley — struggled to assimilate in a homogeneous community so tightly knit that they felt like they needed a passport to get in.
"The issue wasn't, 'Are there enough blacks, enough Hispanics, enough that?' " he said. "The issue was, 'Will it provide a place for our children to thrive?' and the answer in Roanoke so far is yes."
So far, Mwitanti feels he is a good fit for his new church. He says he wants to be part of a congregation that focuses on biblical scriptures and is committed to foreign missions.
And, as it turns out, Scriptures are central for St. John's congregation, and members have recently committed to 20-year missions in Nicaragua and Zambia, Graham said.
This week, Graham was scheduled to travel to Africa for the first time and preach in a north central city in Zambia on Sunday, when Mwitanti will be preaching in Roanoke. And the church of destination? The one where Mwitanti's parents are members.
"It's almost like a foreign exchange student situation," Mwitanti said with a smile. "It's a surreal thing."