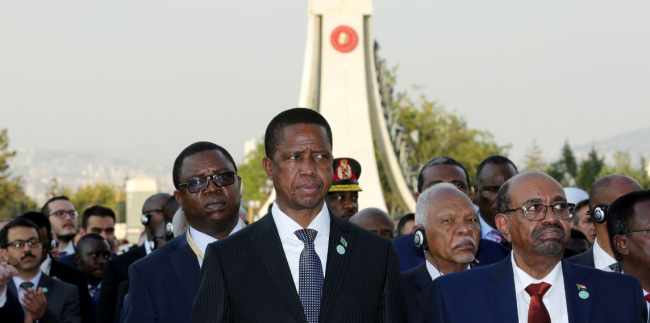 Ankara, Tuesday, July 10, 2018
President Edgar Lungu says his Turkish counterpart Recep Tayyip Erdogan is desirous of enhancing bilateral relations between Zambia and Turkey.
President Lungu said President Erdogan informed him during a high-level bilateral meeting that he was committed to improving diplomatic and trade relations between the two countries.
The President said Mr Erdogan has promised to visit Zambia soon.
The Head of State said this shortly before departure for Zambia after attending Mr Erdogan's inauguration.
President Lungu was in Ankara to attend Mr Erdogan's inauguration ceremony as Turkey's first executive President under the new presidential system of Government
"Well from us from Zambia being part of the invited guests, I think we have learnt a lot. We want to see how we can enhance our bilateral cooperation between Zambia and Turkey," President Lungu said
He said he was happy that the ministers and other officials in his delegation held fruitful meetings with the Turkish private sector comprising investors interested to invest in Zambia.
"We are already working with some of the private partners like in the energy sector. I have said in the past quoting some scholars who have said that there is no finishing line to development. I think mankind keeps developing. So In tourism, Turkey has done very well and in agriculture," President Lunge said.
He said Zambia's tourism and agriculture sectors are on the right development trajectory and it is through cooperation with countries like Turkey that they can record more growth.
"We are talking of value addition in Zambia, and I think that time is gone when African countries thrived by exporting raw materials and we want to export finished products and we can only do so if we industrialise our economies," President Lungu said.
He said it is from that perspective that Zambia could benefit from agricultural practices such as agro-processing in Turkey to learn best practices in value addition in order for the country to export finished products as opposed to raw goods.
Mr Lungu said Government has added a new dimension to economic diplomacy by ensuring ministers include businessmen in their delegations to explore possible public private partnerships (PPP).
"So I think that it will not be ministerial trips anymore it will be business trips, ministers accompanied by businessmen visiting to see how they can cooperate in public private partnerships.
"And I think criticism will always be there , come to think of it, every time the President goes out of the country there is a lot of talk but I think that it is worth it," President Lungu said.
Meanwhile, President Lungu's plane took off from Ankara Esenboga Airport at 09:40 hours local time.
The President was seen off by Zambia's Ambassador designate to the Republic of Turkey, Mr Joseph Chilengi.
He was accompanied by Minister of Foreign Affairs, Joseph Malanji Presidential Affairs Minister Freedom Sikazwe, Minister of National Development Planning, Alexander Chiteme, Mwembeshi member of Parliament (MP) Machila Jamba, Lunte MP, Mutotwe Kafwaya and Chama South Davison Mung'andu and Special Assistant to the President for Economic and Development Affairs Hibeene Mwiinga.
Issued by:
Jerry Munthali
First Secretary (Press)
EMBASSY OF THE REPUBLIC OF ZAMBIA, ANKARA, TURKEY