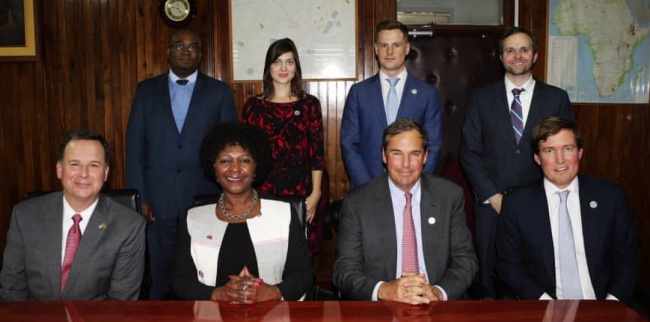 RAY WASHBURNE, President and Chief Executive of the OVERSEAS PRIVATE INVESTMENT CORPORATION (OPIC), a United States of America Government Development Finance Institution, has said his delegation is in Zambia to explore investment prospects in energy, agriculture processing, transport and logistics, tourism, information and communication technology, and value chains.
He says this will be done through his organisations Connect Africa Initiative and could extend to women driven entrepreneurship initiatives.
"We are here to seek investment projects in energy, agriculture processing, transport and logistics, tourism, information and communication technology, value chains, and women driven entrepreneurship initiatives," Mr. Washburne said during a courtesy call on MINISTER OF FINANCE MARGARET MWANAKATWE at her office in Lusaka.
The Overseas Private Investment Corporation (OPIC) is a self-sustaining U.S. Government agency that helps American businesses invest in emerging markets. OPIC helps American businesses gain footholds in new markets, catalyzes new revenues and contributes to jobs and growth opportunities both in the United States and internationally, explained the American delegation.
OPIC fulfills its mission by providing businesses with financing, advocacy and by partnering with private equity investment fund managers.
Last week, OPIC launched its Connect Africa Initiative which will mobilize more than $1 billion to projects that support transportation, communications, and value chains in Africa over the next three years.
And Mrs. Mwanakatwe says the Zambian Government will continue to implement robust transformational reforms and support private sector led development initiatives in order to help the country to achieve growth rates beyond the 4.1% margin recorded in 2017.
Presenting a profile of his organisation, Mr. Washburne said OPIC has been mandated by the United States Congress to explore investment prospects in countries such as Zambia.
"We want to establish investment links in your country," he said, and added that OPIC was keen to enter into partnerships with the private sector using an investment model that will present NO DEBT RISK to the Zambian Government.
"Our money is not meant to compound your national debt, it is a private sector facility," assured Mr. Washburne and his delegation.
Speaking during the meeting, Mrs. Mwanakatwe appealed to the American delegation to consider establishing a fund for supporting entrepreneurship initiatives of women and youths, "especially in rural areas of Zambia."
"The President [Edgar Chagwa Lungu] and all of us in Government are intent on making sure that the Zambian economy changes for the better, and it will change," declared Mrs. Mwanakatwe.
The Minister implored the Americans to assess green-field investment opportunities in the livestock, crop agriculture and infrastructure development spheres "because such an effort would have a greater impact on income generation and poverty reduction."
During the launch of the Connect Africa Initiative held in the United States last week, Mr. Washburne stated that Africa was home to many of the world's fastest-growing economies and presented both a great need for investment and a great opportunity for American businesses.
MINISTRY OF FINANCE