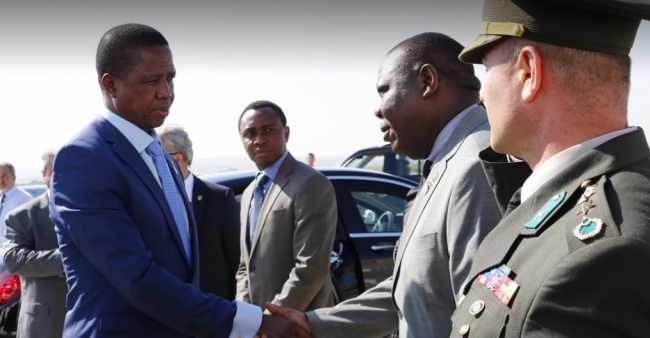 Kitwe. 10.07.2018.
President Edgar Lungu should consider cutting down on the countless uneconomical trips he continues to make abroad.
The visit by the Head of State to Turkey is one such costly trip that should have been avoided.
Zambia has an envoy designate to Turkey who could have effectively represented President Lungu at the inauguration of that country's leader.
An inauguration ceremony of a foreign Head of State should never have been given priority looking at Zambia's current economic mess.
Zambia has missions abroad and staff who should attend to such assignments.
It is clear that President Lungu finds solace attending to misplaced priorities.
Mr. Lungu would rather see the country struggle to pay its external debt whilst he and a few of his associates continue to loot Zambia's meager resources.
Zambia is broke and our foreign reserves, if at all we have any left are completely depleted.
Zambia's reserves have dwindled because of excess and reckless spending and borrowing by this regime.
President Lungu has raped and crippled Zambia's economy through wanton economic mismanagement.
It seems President Lungu easily forgets.
This is a leader who earlier this year announced that he would not undertake any foreign trip.
He made the pronouncement knowing very well that the country's economy was in its doldrums.
Shortly after this "genuine" pronunciation, we saw the Head of State resorting to global trotting.
Since january this year, the President has been to countless countries.
Mr. Lungu has undertaken private visits as well using tax payers money carrying along friends on trips that have never yielded any positive bearing to the country.
Talk about the private outings to Kenya and South Africa.
The colossal sums of money that the President is wasting on allowances and other incidentals could be used on productive ventures.
This money can be channeled to Chawama Mini Hospital for instance to buy drugs and medicines for patients.
This money can be used to pay bursaries for university students.
When Finance Minister Margaret Mwanakatwe announced austerity measures recently, we welcomed the gesture as NDC.
We thought that for once, the Lungu regime had indeed started listening to the numerous cries from Zambians.
But our guess was wrong and its all a nightmare again and again.
The austerity measurers announced by Minister Mwanakatwe if taken seriously can save our remaining resources.
From the look of things, those well thought economic measurers where only meant to hoodwink and the people of Zambia.
This regime is not sincere in its dealings and cares less for its people.
It is like those in Government are now competing to make money through numerous foreign trips.
If it is not the President traveling, it is the Vice President or some Minister anxiously waiting for a paid for flight.
What benefits has or will Mr. Lungu bring to Zambia after his Turkey visit? Nothing.
President Lungu should for once learn to stay home and address our domestic problems.
Going to Turkey for two or three days to dine and wine don't bring food on people's tables.
As NDC, we demand that the austerity measures announced to limit public spending be implemented and followed to the later.
Very soon, this regime will fail to pay its civil service and pay off its numerous debt. Its happening already.
The truth is, President Lungu doesn't care. If he indeed cared, he wouldn't be making numerous unproductive trips abroad.
President lungu's Turkey trip is in vain. He won't bring any cheque back home to pay Zambia's ballooning debt.
By jumping from one plane to the other, what example is President Lungu giving to civil servants and their controlling officers?
Civil servants will follow suit as they too will continue making unnecessary foreign trips, thus, putting the country in more economic problems through loss of forex on air tickets and allowances.
Issued by: Mwenya Musenge. Secretary General NDC.