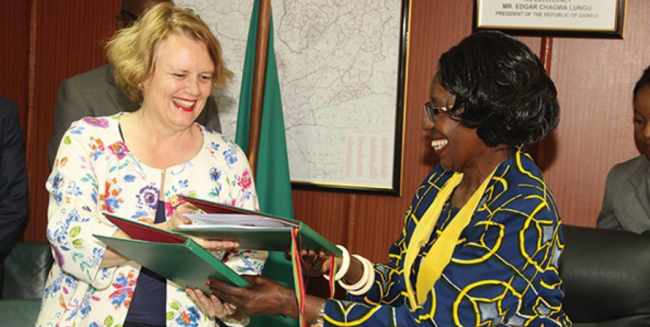 By Choma Daily News
Opposition United Party for National Development youths have given a 7 day ultimatium to the UN Systems In Zambia to recall Janet Rogan for her selective service delivery or face nationwide protest against her.
Youths National Secretary Trevor Mwiinde told journalists at a media briefing on Saturday that the Youths are not happy with the attitude of the UN country representative in Zambia Janet Rogan.
According to Mwiinde Ms Rogan has been sidelining key stakeholders in matters affecting the country's democratic tenets in preferences for the ruling PF thus defeating the principles of democracy.
He further accused Ms. Rogan of sitting on vital documents which have information that could be used to resolve the challenges the country is facing since the disputed 2016 general election.
For this reason, the youths feel the UN chief in Zambia is an enemy of peace and progress in Zambia hence their decision to ask the UN to recall her.
He said the youths want her out as she is more interested in serving the interests of the PF as a single political entity because and not that of the people of Zambia.
"If Ms Rogan is not recalled by the expiry of the of the 7 day ultimatum,the UPND youths will be forced to demonstrate at the UN office in Lusaka to demand for her Immediate removal from her office,"he added.
Meanwhile three political parties have intensified their calls for the United Nations to recall its representative to Zambia ,NDC,PeP and UPND have joined hands with the Harry Kalaba against corruption foundation to organize peaceful demonstrations countrywide.