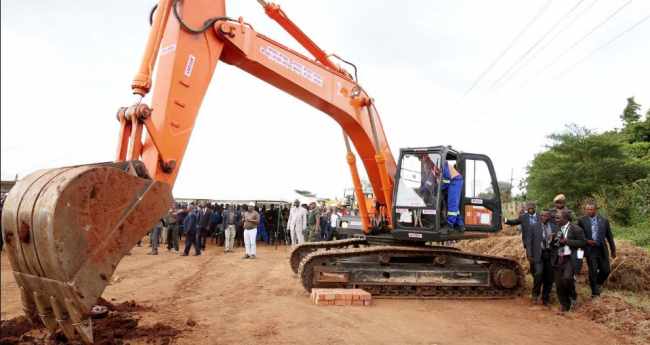 Speech By His Excellency Mr. Edgar Chagwa Lungu
President Of The Republic Of Zambia,
Delivered At The
Ground Breaking Ceremony On The Construction Of Lusaka City Roads Decongestion Project
At Mimosa Kafue Road Junction
Thursday, 12Th April, 2017
• Your Excellency Mr Ram Nath Kovind,
President Of The Republic Of India;
• Cabinet Ministers From Both Zambia And India;
• Your Worship The Mayor Of The City Of Lusaka;
• Your Excellency India'S High Commissioner To Zambia Mr N. J. Gangte And Your Counterpart Zambia'S High Commissioner To India, Ms Judith Kapijipanga;
• Senior Government Officials From Zambia And India;
• Distinguished Guests;
• Members Of The Press;
• Ladies And Gentlemen:
Your Excellency:
I Welcome You To This Momentous Occasion To Mark The Official Launch Of The Design And Construction Of Lusaka City Roads De-Congestion Project.
Zambia And India Have Enjoyed A Long History Of Sound Bilateral Relations Which Have Resulted In Successful Cooperation In Various Sectors Between The Two Countries.
Your Visit Therefore Demonstrates The Strong Ties Between Our Two Countries.
Your Excellency:
Indeed, The Lusaka City De-Congestion Project Will Be The Biggest Ever Government To Government Cooperation Between The Two Countries. This Event Takes Our Partnership To The Next Level.
The Traffic Congestion In Our Capital City Has Become A Very Serious Concern To All Of Us. It Is Adversely Affecting Transportation Of People, Goods And Services As Transporters Are Taking More Time On The Road, Thereby Pushing Up The Cost Of Doing Business.
Increased Traffic Congestion, Is Adversely Affecting Our Environment Causing Air And Noise Pollution. Government Is Therefore Determined To Address This Problem By Creating An Environmentally And Economically Attractive Smart City.
The Pf Government Has Already Shown This Commitment To Reducing Congestion By Implementing Phase One Of The Ring Road Project Under Support From The Japan International Cooperation Agency (Jica). We Have Also Completed Phase One Of The L400 Project. These Two And Other Related Projects Have Already Contributed To The Reduction Of Congestion In The City Of Lusaka.
Your Excellency:
Ladies And Gentlemen:
We Are Alive To The Fact That Lusaka City Is Also The Transit Route For Trade In The Southern African Development Community (Sadc). It Is The Gateway And Link To Most Southern African Countries Thus Making Zambia A Regional Trade And Transport Hub.
Zambia'S Strategic Position In The Sadc Region Therefore Makes It Imperative That We Develop A Modern Road Sector To Facilitate An Enabling Commercial Environment.
I Am Therefore Delighted That We Are Here To Launch This Landmark Project Which Has Been Financed By The Exim Bank Of India At An Estimated Cost Ofus$ 289Million With 15 Percent Counterpart Funding From The Government Of The Republic Of Zambia. The Project Is Scheduled To Be Completed In 36 Months.
The Project Scope Will Involve The Following:
• Construction And Expansion Works Of 120 Kilometres Of Major Roads;
• Selected Roads With Two Lanes Will Be Expanded To Four Lanes;
• Dedicated Bus Lanes Will Be Constructed On Major Roads Such As Kafue And Great East Roads To Bring In Bus Rapid Transit (Brt).
• Junction Improvement Such As Construction Of Flyovers And Modern Roundabouts On Five Major Junctions.
• The Construction Of The Outer Ring Road Which Will Help To Decongest North And South Bound Traffic. The Launch Of This Project Is Being Held Here Because This Is Where The Outer Ring Road Will Pass. This Will Also Be The Major Feature On This Project.
This Is The Kind Of Investment And Development We Promised The People And I Am Proud To State Here That The People Of Zambia Did Not Misplace Their Confidence In This Working Pf Government. We Are Indeed Delivering On Our Promises And Therefore Winning More Public Trust.
So, With The Support Of Cooperating Partners, We Shall Remain Focussed With Our Clear Eyes On The Ball-Our People-To Deliver Quality Services To Improve Their Lives Because That'S What Matters.
Road Projects Such As This One Are A Catalyst To The Country'S Increased Productivity And Economic Growth.
Your Excellency:
Ladies And Gentlemen;
Roads Determine The Location Of Businesses And Spurs Employment Creation. It Is For This Reason That The Pf Government Has Prioritised The Construction, Rehabilitation And Maintenance Of The Road Network In The Country.
Let Me Now Take This Opportunity To Sincerely Thank The Exim Bank Of India For Facilitating The Financing Of This Project.
I Also Wish To Urge The Contractor, Afcons Infrastructure Limited And Shapoorjipallonji Group Of India, To Deliver The Project Within The Stipulated Time Frame With Expected Standard.
I Am Confident That With Their Past Track Record, Afcons And Shapoorjipallonji Will Live Up To Their Reputation.
To The Surrounding Communities And The Motorists, My Appeal To You Is That Cooperate With The Contractor And Give Them Support During The Implementation Of This Project.
Ladies And Gentlemen:
Sustainability Of These Roads Will Largely Depend On Ownership Of The Works By The Council. In This Regard, I Am Directing Lusaka City Council To Take Full Ownership Of These Works And Ensure That A Maintenance Programme Is Devised To Preserve This Huge Infrastructure Investment. I Also Urge The Council To Sensitise The Surrounding Communities About The Project.
Once Again, I Wish To Thank Your Excellency Mr Ram Nath Kovind, President Of The Republic Of India And Your Entourage For Being Part Of This Occasion.
It Is Now My Singular Honour And Privilege To Officially Commission The Ground Breaking Of The Design And Construction Of Lusaka City Roads.
Thank You And May God Bless You All.