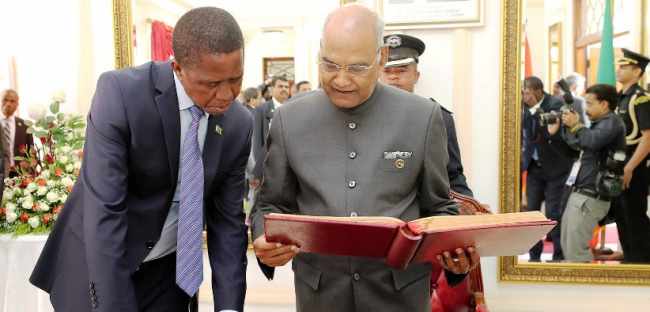 Mansa. 12.04.2018.
President Edgar Lungu should utilize the visit by the President of the Republic of India to discuss the many challenges Konkola Copper Mines KCM is facing.
The problems at KCM are too serious to be ignored.
As NDC we feel President Lungu should not pretend that all is well at kcm.
The pending issues at kcm are many and varied.
For instance, several Zambian contractors and suppliers at kcm have not been paid for service's rendered for the past three months now.
The affected contractors are owed over 15 million United States dollars by the mining conglomerate.
As NDC, we thus appeal to President Lungu to table such issues with the Indian President Nath Kovind who is in the country on a working visit.
We urge President Lungu to consider inviting the Vedanta Resource's chairman Anil Agarwal who is also part of the Indian business delegation visiting Zambia to this important meeting.
The financial problems at kcm are getting worse.
It is high time a practical and long lasting solution is found over the financial woos at this firm.
President Lungu has a unique opportunity to discuss these challenges so that kcm can start doing business in a different approach.
It is also nauseating that Kcm has been paying Chinese and Lebanese contractors doing business with the conglomerate and has turned a blind eye on Zambian contractors.
These local contractors kcm is abusing employ hundreds of Zambian's in both chingola and chililabombwe.
The truth of the matter is that Vedanta Resources PLC has failed to run kcm.
President Lungu and his counterpart should address problems at the mine holistically so that the nation can know what the future looks like under Kcm.
Kcm is also one of the mining conglomerates in the country that has been abusing its workforce.
In the last five years, the firm has offered its workers a zero percent salary pay rise.
This year, Kcm workers have been given a seven percent salary hike.
This is very a mockery, unreasonable and counter productive.
The metal prices on the London Metal Exchange have swelled in the recent past.
The Vedanta run firm has no excuse what's so ever to award slavery perks to its staff and later on refuse to pay local contractors.
At one point, KCM told the whole country that it is insolvent and its future operations in Zambia was in doubt.
We want to know how the books of accounts at kcm look like.
President lungu and his brother President Kovind should have travelled to the Copper belt to have a feel on the operations at kcm.
We are aware that Kcm has been externalizing alot of money from Zambia.
These are some of the issue's we want to hear and addressed by President lungu.
It make's sad reading that Mr. Lungu is on record praising a firm that has not added any value to Zambia.
KCM is one mining firm with a poor credit record. The firm has several liabilities.
Talk about the Ten million United States dollars owed to the Copper belt Energy Corporation CEC for instance.
This debt that is now being paid almost crippled the operations of KCM.
That mine was going to be flooded had the CEC cut power to the mine
Anvil Agarwal, bought kcm for a song and as such, he should be serious and sensitive to the needs of Zambian's.
We want the President of the Republic of India to be told the truth about kcm.
kcm has lost credibility and is not a good investor after all.
Issued by: Mwenya Musenge. Secretary General NDC.