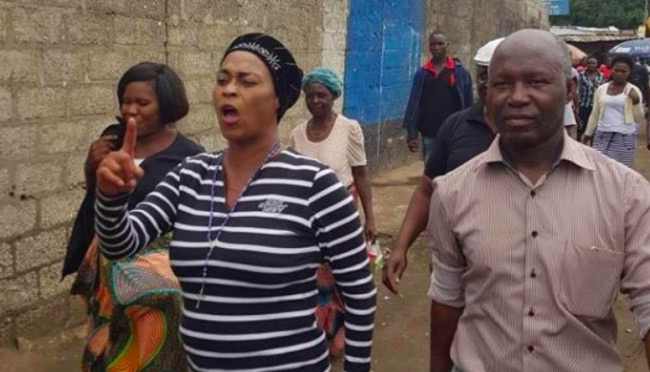 Patriotic Front -PF- Deputy Secretary General Mumbi Phiri has been slapped with a 30-day suspension from her position and the Central Committee for indiscipline.PF Secretary General Davies Mwila says the suspension follows Mrs. PHIRI's gross misconduct at a PF Fundraising venture in Chilanga District which is said to have embarrassed President Edgar Lungu.
The PF Chief executive officer says the party on March 5, 2018 wrote to Mrs. Phiri requesting her to exculpate herself of the alleged bad behaviour and that in response, she admitted her wrongs and asked for forgiveness.Addressing the media in Lusaka on the outcomes of the Central Committee meeting held yesterday, Mr. Mwila said the Central Committee hopes Mrs. Phiri will use her suspension to reflect and learn.
He said indiscipline will not be tolerated and the party does not favour any member adding that the suspension should serve as a warning to remind leaders that they have a duty to lead by example.
Meanwhile, Mr. Mwila says the Central Committee has referred the petition from party structures in Luapula against Bahati MP Harry Kalaba to the province and that any recommendations should be tabled by the disciplinary committee.
And Mr. Mwila says the Central Committee meeting chaired by President Edgar Lungu also ratified the appointments of Minister of Information and broadcasting Services Dora Siliya as PF Chairperson for Information and Minister of Mines Richard Musukwa as Member of the Central Committee.
Further Mr. Mwila said the PF Central Committee categorically agreed that Zambia is not in a crisis.
The Party has however reaffirmed its stance that it values dialogue as an ongoing process within Zambia's democratic space and must involve all stakeholders including the Church, political parties, civil society and others.
Mr. Mwila also said the central committee resolved that all dialogue processes must be spearheaded by the Zambia Centre for Inter-Party Dialogue – ZCID and urged the commonwealth team led by professor Ibrahim Gambari to channel all interventions through ZCID.
He says the Central Committee believes that while outside interventions remain welcome, Zambia has a duty to use its own mechanisms regarding promotion of inter-party dialogue.
ZNBC