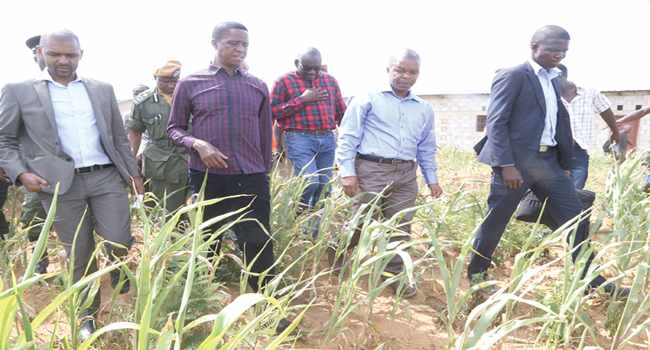 The National Democratic Congress NDC is disturbed with remarks attributed to President Edgar Lungu that he will cling on to power even after loosing the 2021 general elections.
NDC is particularly incensed that such remarks are coming from the Highest office in the land.
Worse still these remarks are coming from a qualified lawyer who is supposed to be the custodian of all statutes.
The remarks made by President Lungu have the tendency to erode Zambia image on the international front considering that the country has always been known to be the beacon and Haven of democracy.

If Lungu imposes himself as Head of state after loosing the 2021 general elections, the voters will be forced to hound him out of office.
The remarks by President Lungu in chibombo district clearly shows that he knows that the people of zambia have lost confidence in his regime.
Lungu should know better that most wars and civil unrests in African countries are due to leaders perpetuating their stay in power through unconstitutional means.
If Lungu elects to unconstitutionally remain in office, we are afraid that the Zambian people will go the Zimbabwean way or indeed the Gambian way.
To therefore state that Zambia is being headed by a dictator is not in any way an understatement.
The African Union AU, Commonwealth and SADC should take interest in lungu's statement.
Who knows what Lungu maybe be planning. It is clear that Lungu is planning to rape and abrogate the Republican constitution with impunity. This the NDC won't allow.
We are keeping a watchful eye on this administration.
We wish to remind Lungu and his cronies, that should they attempt to go against the aspirations of the Zambian people in 2021, their attempts will be met with the wrath that such illegality deserves.
We get to wonder what Lungu is hiding nor why he wants to remain in office as if Zambia is a monarch?
We know that Lungu is afraid of his own shadow owing to the many corruption scandals he has committed.
The NDC in Government will ensure that Lungu is prosecuted and made to pay back what he has stolen.
We therefore appeal to the Law Association of Zambia LAZ and well meaning civil society groupings to condemn maneuvers by Lungu to overstay in power.
Issued by: Mwenya Musenge. Secretary General NDC.