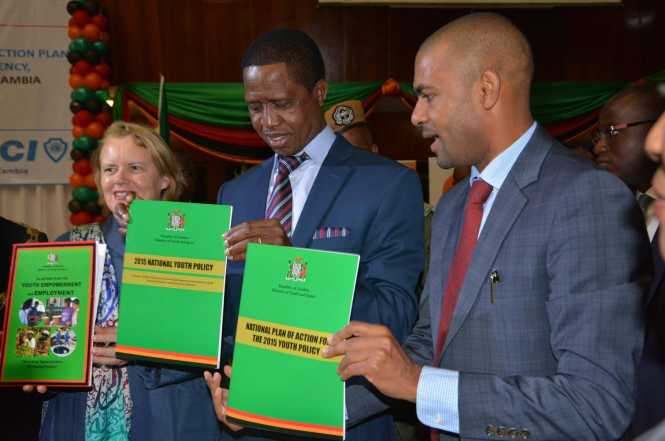 Dear Editor,
AS YOUTHS WE ARE TIRED OF CEREMONIAL SPEECHES
Yesterday was the day when the revised 2015 national youth policy and action plan for youth empowerment and employment was launched. Many social and political pundits have given their own analysis regards the launch by the President.
As a youth advocate who has played an active role in youth affairs in this country, I wish to state that Youths of Zambia are tired of ceremonial speeches which are just thrown away after such ceremonies finish.
We are tired as Youths of being used as Political tools and later dumped until the next election. Lunching and re- launching the same policies over and over again won't sort out the many problems and challenges that youth are facing.
The UNIP, MMD and PF government have all failed to implement youth policies that must guarantee educational and employment opportunities.
Unemployment figures amongst the youth have continued to rise. This is irrespective of the levels of academic qualifications obtained as employment opportunities are nonexistent, this is despite the many youth policies which we keep launching and yet unable to implement. Prohibitive tuition fees have made lots of Youths drop from institutions of higher learning and there is simply no hope at the moment.
It is so amazing that, fifty years after independence youths in this country have not being integrated in national development. The majority of the Zambian youths have remained unemployed, ill-educated and without any formal skills to enable them to earn a living in society and contribute to national development.
Every time Politicians keep telling us the same things and yet there has been no implementation at all.as we head toward an election year many such promises will be made regards jobs, 500 000 jobs etc. but we are tired of political lies and rhetoric .We want to see action not just prepared speeches without any accompanying action.
Finally I wish to appeal to youths across the country not to fall for empty promises. We have been cheated many times and enough is enough. We are the majority in the population pyramids of our country and as such we should not be sidelined in national development. Let's therefore arise and shine, take our rightful position and take over the governance of this country. 2016 is our time to retire the old and recycled politicians but also politicians that have failed to deliver on their election promises.
A. Sakala
2016-munali Member of Parliament