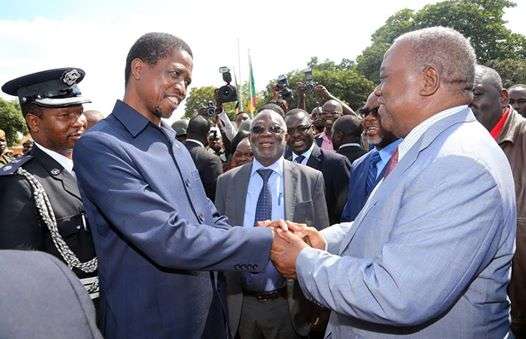 MALIGNANT PROPAGANDA AND GOVERNANCE
14th May, 2015
As an organization that promotes Good Governance, Access to Justice and Human Rights, we are concerned with a number of issues bordering on malicious propaganda, perpetuated by various different groups. This propaganda has the potential of bringing hatred in the Country making it difficult for elected leaders to rule.
MALIGNANT PROPAGANDA
It has come to our realization that while Zambians voted for one President, our Country is being steered in different directions by various groupings or individuals with ulterior motives.
These groups are busy fighting for political power and control of this nation using the legitimate elected leadership. In their fighting for power and control, they have employed methods of vilification, malice and intimidation using State machinery and looted money.
It must be noted that this situation is not just peculiar to President Edgar Lungu's rule, but it has been there even in the preceding leaderships. However, we are living in the present, as we refer to the past.
The situation in the Country is such that for one to enjoy life as free citizens entitled to what the Country can offer, you must belong to one of these groups and support all the agendas without questioning. The moment you question anything you are considered to be a rebel, an outcast and therefore must be vanquished
The Zambian Voice does not speak in obscurity but in objectivity and Truthfulness, therefore we would like to mention some of these groupings and individuals that we have identified based on our experience.
Group 1
This is a group commonly known as the "Cartel", this group carries names like Fred M'membe of The Post Newspaper, Mutembo Nchito our embattled Director of Public Prosecution (DPP), Rajan Mathan Chairman of the Mathan Group of Companies and all those that associate or sympathize with these people.
This group is accused and hated by some citizens for wanting to control the leadership of this Country. The group was accused of having held Late President Sata hostage in State House.  The thorny issue relating to this group is the Development Bank of Zambia (DBZ) 15 million loan which is currently in court.
Mutembo Nchito as DPP has been accused to have prosecuted a number of people from other groups maliciously.
Mathan has been accused of being ruthless and canny in his dealings but he seemed to have burnt his fingers when his Bank grabbed a house of Rupiah Banda before he became a President. He is also accused of not having helped PF financially in the last elections.
Fred M'membe is accused of partnering with Mutembo in the DBZ loan but mostly he is hated for exposing the alleged corruption cases and calling the members of the other group (group 2) as corrupt and convicts.
During the last Presidential campaigns President Lungu referred to this group as "Bamukukulu" (crooks) who needed to be sorted out.
Group 2
The other group of people is associated with people like former President Rupiah Banda (RB), Henry Banda (son of RB), Richard Sakala of the Daily Nation, Brebner Changala a civil activist, Lucky Mulusa who is Presidential  Assistant on Projects (Mulusa is former Solwezi Central MP and a very close ally of RB), Lawyer Lewis Musho and other associates surrounding RB.
This group under the leadership of RB is the one that seems to be enjoying State privileges and favours after the death of Sata and the installation of President Lungu. President Lungu seems to have a lot of loyalty to RB because of the help RB rendered for Lungu to win the last Presidential election.
It seems a set of deliverables have been drawn between RB and the President (like the ones drawn between Dr. Nevers Mumba and RB which the former back peddled on at the last minute).
The group is also highly accused of corruption starting with RB who is in court for various charges of corruption.  His son also, Henry Banda, has been a fugitive out of the Zambia since the coming in of Mr. Mutembo Nchito as DPP during President Sata's rule. Mr. Nchito has been passionately on RB and his associates to prosecute them for corruption that he even brought in witnesses from Nigeria to testify.
Mr. Brebner Changala is at the centre of the Tribunal set up to investigate Mutembo Nchito (which Mr. Changala has called fake in our presence), while Lucky Mulusa and Lewis Musho are pulling strings to remove the DBZ loan out of court to corner Mutembo Nchito and Fred M'membe.
Lewis Musho is implicated in the Shoprite saga involving colossal sums of money (something like the Austin Liato style). The case is still in court and since the suspension of Mutembo Nchito, there seem to be changes in the prosecution team. Musho recently even filed a counter suit against Shoprite for causing freeze on his accounts.
Mr. Musho recently got married to another woman and hired most (if not the entire) of Protea Hotel in Chisamba to entertain, feed and accommodate his wedding guests. He is also serious PF sympathizer
Group 3
This group is mostly composed of the President and his aides in the name of Mr. Chilubanama – State House Permanent Secretary, Mr. Kaizer Zulu – Political Advisor (who was recently cleared by Anti-Corruption Commission after the The Post Newspaper  carried the story of him being investigated) Mr. Mulenga Sata –  State House Deputy Minister and Mr. Amos Chanda – Presidential Press Assistant.
This group is accused of enjoying a lot of favours and Privileges than any other members in the PF by virtue of being in State. While none of them has been prosecuted of corruption, Mr. Kaizer Zulu is believed to have been fired by Late President Sata for interfering with Fertilizer supply at the ministry of Agriculture where he instructed a named PS to cancel the due process and pick a preferred supplier. He is also alleged to have intimidated RTSA staff to award a contract to a company of his choice. A number of PF members and business associates have also complained of having given him money for favors which he has never delivered.
EXHORTATIONS
The Zambian Voice is concerned by this scenario, because it is a recipe of Bad Governance, corruption and inequality.
Without prejudice we would like to urge the Zambian citizens and other stakeholders, not to be easily fooled by any of these groups or individuals by their propaganda and manipulations.
The public must becareful to look at the accusing finger before believing everything else they become accomplices to malice and injustice. We humbly ask citizens and stakeholders to make a reflection and review their opinions on any groups or individuals because they may have been misled positively or negatively.
Actually we want to admit that we have been victims of malicious propaganda of vilifying others, not knowing that we were being used to launder corrupt people who have taken advantage of the poor Zambians to look clean in the eyes of the public. It is therefore not our call to persuade citizens whether to believe or not, any of the groups or individuals.
The issues we have raised here are not just hearsay but there is truth behind it. We don't want citizens to fall into the trap of another cartel met to vilify, malign and destroy the fellow citizens. The decision has to be made by Zambians after reflecting on facts available.
We would also like to urge President Lungu to clearly define his identity and values in his governance. He is trending a dangerous path aligning himself with people smelling corruption unless he is the beneficiary of the corrupt activities.
It would also be our humble appeal to RB to withdraw completely from politics and machinations so that the Zambian citizens can confer on him that Statemanship he deserves. It is not fair for us young people to be talking about him in acrimonious issues. We are more comfortable to talk about Dr. Nevers Mumba because he is our contemporary, an elder brother. MMD's future right now is in jeopardy because of RB gorilla politics.
We would also like to exhort the Judiciary to be impartial because these unscrupulous people want to use them to legitimize wrong things. Justice should not have a face. Courts are places where all citizens, poor and rich run to for justice. So if our magistrates and judges are going to be looking at faces and pockets of people, the poor and the persecuted will have nowhere to go.
May God bless us all.