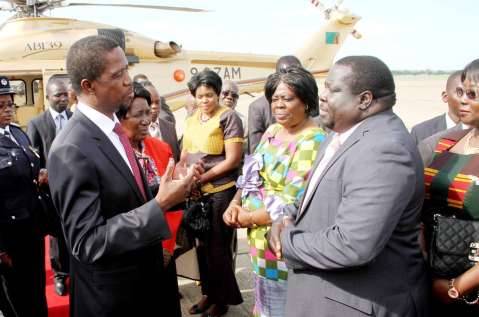 Government has accused the Post Newspaper of hating President Edgar Lungu.
Chief government spokesperson Chishimba Kambwili says the Post Newspaper did not want President Lungu to become the country's head of state during the last Presidential election.
Mr. Kambwili says this is why the newspaper has gone to lengths to ensure the country becomes ungovernable and ensure that the President to fails.
He accuses The Post newspaper of having intentions to threaten investor confidence so that the Kwacha and the economy can collapse.
The Chief government spokesperson says Zambians should judge the private newspaper's writings.
Addressing a media briefing in Lusaka, Mr. Kambwili also took a swipe at UPND national chairperson Mutale Nalumango and Senanga member of parliament Likando Mufalali over their remarks on the Health of President Lungu.
He has described their utterances in the Post newspaper as heartless and sadistic and that they should be dismissed with the contempt they deserve.
Meanwhile Mr. Kambwili has advised the clergy in the country to realize that they are being used to drive a private agenda of the Tabloid newspaper.
He says it is sad that the clergy such as Bishop John Mambo and Pilgrim Wesleyan church of Zambia Pastor Bob Sinamushanga have allowed themselves to be used by a newspaper that has made it a preoccupation to attack the President.
Mr. Kambwili says government expects the clergy to provide spiritual healing.