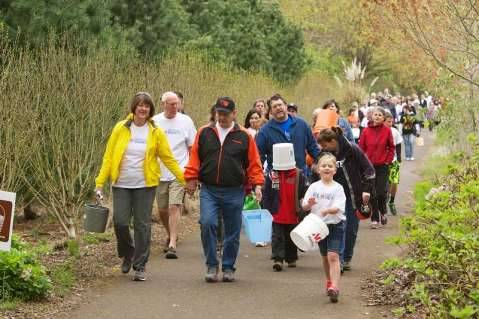 Gary and Judi Mittelstaedt believe WaterAfrica can change lives, and they're hoping Lake Oswegans will join them in that quest
---
There they saw the impact that a fresh, sustainable water supply could have on villagers' lives. More importantly, Judi says, she realized that the people she met were not that different from her — mothers and grandmothers who longed for nothing more than to have their children see bright and healthy futures.
"I saw women with little three-legged stools, taking them everywhere," Judi says. "I looked around their circle and saw mothers and grandmothers holding children. I thought. 'I'm no different from these women,' and I immediately fell in love with the children. I played soccer with them. It was so joyful."
The Mittelstaedts were hooked.
Gary, whose 45-year career in high technology included global business development roles with Intel, Mentor Graphics and other companies, joined the WaterAfrica board in 2012. Judi, a retired school counselor and children's pastor, signed on two years later.
And in October 2014, the couple agreed to become the organization's co-presidents.
That calling involves taking over for Bill and Diane Savage, who started WaterAfrica eight years ago. The Savages were among the first visitors from Lake Grove Presbyterian Church to visit Zambia, where they watched in suspense as the first well was dug, praying that it would work and that water would come gushing out of it.
Since then, WaterAfrica has dug 90 wells through its partnership with World Vision. (Based on the reporting of the United Nations, 90 percent of those wells are still in operation.) From 2010 to 2014, World Vision — with WaterAfrica's help — has provided safe drinking water to 462,207 people in Zambia and expects to provide clean water to 700,000 thru 2016.
And the Savages' fundraising efforts have attracted $1.4 million in donations not only to provide fresh water but also to implement sustainable sanitation and hygiene programs.
The Mittelstaedts hope to keep up that good work. Their goal: "We need to raise $1 million more by 2020," Gary says. "That will be enough to dig 70 wells."
The need, Judi says, is obvious.
"Without wells, women and children carry water from springs and creeks that they share with animals, and the animals defecate in the water," she says. "The people know the water could kill their children, but they have no other option. They walk hours a day carrying gallons of unsafe water. You see a girl balancing a 5-gallon jug on her head and you realize she's not in school."
WaterAfrica's partnership with World Vision seeks to change the foundation of life for Zambians — their health, food and education, and even a cause that Judi has been devoted to for many years.
"There is so much child slavery in the world because there are so many desperately, desperately poor people," she said. "They literally have to sell their children, who often end up being sexually exploited. With enough water, they don't have to do that."
Before digging a well, World Vision requires every family in a village to have a latrine, a garbage pit, a hand-washing station, a shower and a raised dish rack. Teams then help train villagers on the importance of sanitation and hygiene.
"We think the Zambians are suffering," Gary says. "But we can help them get on a trajectory that can change their lives."
Next month, Lake Oswegans can help the Mittelstaedts do just that. On April 11, WaterAfrica will sponsor Walk4Water8, a two-mile trek from Foothills Park to Millennium Plaza Park. Participants will carry water in buckets to symbolize the effort many Zambians must make every day in order to simply exist.
Businesses and individuals will be asked to make donations to the walkers. Last year, Walk4Water7 attracted 300 walkers and raised more than $61,000.
"We want to support Lake Oswego businesses that day," Judi says. "We talked with (Accessories from the Heart owner) Carol Winston about what we can do to enhance business in Lake Oswego, and we're going to meet with the Lake Oswego Business Alliance. We want the walk to benefit the community, not just be a one-way thing."
That should make Walk4Water8 a real community celebration.
"We want to sync up with Lake Oswego in a deeper way," Gary says.
IF YOU GO
What: Walk4Water8, a fundraiser for WaterAfrica
When: Saturday, April 11. Registration begins at 8:30 a.m; the walk begins at 9 a.m.
Where: The stroller-friendly two-mile walk begins and ends at Foothills Park in downtown Lake Oswego. To simulate the experience of villagers in Zambia, participants walk to the water source, fill their buckets with water and return to the starting point.
Cost: $10 student/child; $35 adults; $70 family; $250 family sponsorship
To register: http://www.waterafrica.org/walk4water8
Contact Cliff Newell at 503-636-1281 ext. 105 or[email protected].
http://portlandtribune.com/pt/9-news/252936-121443-just-add-water