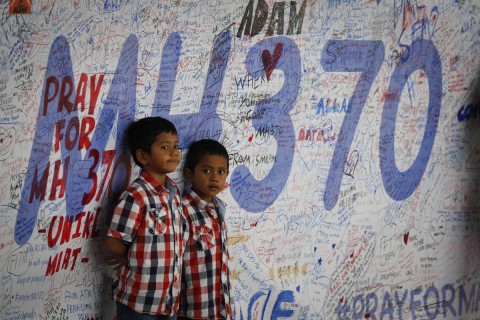 A year since flight MH370 disappeared, search teams continue to affirm their belief that wreckage will be found in the Indian Ocean – but amid warnings over the timescale for the arduous, costly operation there are signs that the determination to resolve aviation's greatest mystery may be waning.
Families of the missing are awaiting an interim report from Malaysia's Department of Civil Aviation, due to be released on the anniversary of the disappearance of the Malaysia Airlines Boeing 777 in the early hours of 8 March 2014 as it travelled from Kuala Lumpur to Beijing with 239 passengers and crew on board.
The majority of the missing are Chinese nationals, whose relatives are awaiting official permission to hold a planned memorial ceremony in Beijing.
The Australian-led search has now trawled around 43% of the 60,000 sq km priority zone in the southern Indian Ocean. Underwater sonar mapping revealed extremely mountainous terrain, making the search particularly difficult. With the budget so far standing at A$120m (£62m), Australia's prime minister, Tony Abbott, this week said he could "not promise that the search will go on at this intensity forever".
Sir Angus Houston, the former defence chief who coordinated the search, met families of MH370 passengers on Thursday. He said: "On the balance of probabilities at the moment, the chances of finding it are still good, and we should be patient and persist." He added he was "still quietly optimistic that … one day, hopefully very soon, we might wake up and hear that it's been found."
Despite a welter of conspiracy theories that MH370 may have landed elsewhere, the only credible lead was data provided by Inmarsat from the "handshakes" with its satellite after the plane's communication ceased. Its calculations could onlydefine a broad expanse of sea. Houston noted that a previous comparable search, for the wreckage of Air France 447, which crashed in the southern Atlantic in 2009, took almost two years in a far smaller area.
The underwater search is expected to run until May before weather conditions deteriorate and force a pause. Paul Kennedy, project director aboard Fugro Discovery, one of the four ships hunting for MH370, has spoken of the challengesfacing crew in the remote waters. "Seven days' sail from the nearest civilisation, we're an awful long way from serious medical facilities. Essentially it's like Antarctica. People are working 84 hours a week, but you don't go home, it's rough and you don't get much sleep."
The mystery prompted calls to review aircraft tracking and a pledge from airlines to ensure no plane could go missing again. But no single solution – or tamper-proof communication system – has been found. Last month the UN aviation agency ICAO endorsed proposals to have long-haul flights report their location every 15 minutes. Malaysia, along with Australia and Indonesia, announced it was complying immediately. The Malaysian government said it had also improved coordination between civil aviation and the military, to avoid the confusion revealed in the early hours after MH370 went off the radar.
Yet enhanced tracking relies on the existing satellite communications that investigators believe were deliberately turned off by someone on flight MH370. Ultimately, aviation is still scratching its head. Captain Kevin Hiatt, head of safety and flight operations for the global airlines body Iata, said: "There is no one-size-fits-all solution. There are existing technologies, services and procedures that can enhance aircraft tracking in the near-term."
Hiatt said Iata was pursuing "effective and sustainable solutions that do not create unnecessary redundancy nor have unintended impacts on safety" and underlined that MH370's disappearance was a unique event. However, he said: "[We] recognise that commercial aviation is not sustainable if the public does not have confidence in the safety of the global air traffic system."
In January the Malaysian government officially declared MH370 an accident, ostensibly to allow relatives to claim compensation under the international Chicago convention, and to allow them to "resume normal lives".
Families in China and Malaysia appear to be some way from that. Wang Zheng, in Nanjing, still avoids the modest apartment where his parents had been living for 20 years before boarding MH370, where scrolls of paintings remain in piles and the rooms gather dust. He said he had been doing as much overtime as possible to forget. "I spend as little time as possible. It's uncomfortable here."
Jacquita Gomes, wife of inflight supervisor Patrick Gomes, from Kuala Lumpur, said: "There is no proof, no debris, not a single piece of evidence to tell us that they are really in the Indian Ocean. If this is really the end, show us something. Even if it's just one finger, then we can say goodbye properly and send him to our Lord."
Wang said: "Nothing can be ruled out when nothing can be proved." He has insisted that his parents' apartment remain untouched. "Let's decide what to do with it once they are back."
http://www.theguardian.com/world/2015/mar/07/flight-mh370-year-anniversary-search-optimistic-families