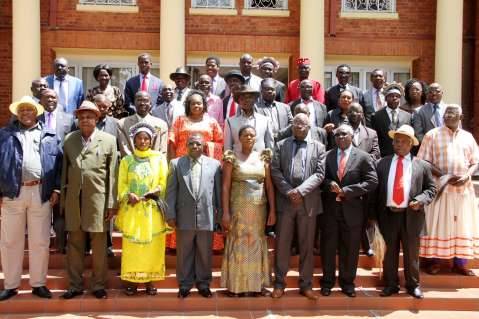 "I just want to challenge you the royal highnesses to think through these divisions. I want you to help save this country and bring us back to the 'One Zambia, One Nation."
President Lungu is worried about the emerging "tribalism and regionalism" and has asked traditional leaders to help unite Zambia.
Mr Lungu said that the emerging tribal divisions are worrisome and need the intervention of all traditional leaders.
He said this at State House in Lusaka yesterday when he met 25 chiefs from North-Western, Eastern, Central and Luapula provinces. Most of the traditional leaders were from North-Western Province.
"My worry has been the problem I noticed during the campaigns which manifested in the results of the just-ended election.
"We saw people voting on what has been described as tribal or regional lines and if that is true, then it is up to you the royal highnesses to bring us together as 'One Zambia, One Nation'," he said.
President Lungu said chiefs are parents of all citizens and that State House has and will embrace all tribes.

"Some of us have the fortune of being half-Bemba, half-Tonga, half-Lozi or half- Kaonde. So how are you going to look after us if you begin voting on tribal lines by saying do not vote for a Tonga or Bemba," he said.
President Lungu said it is unfortunate that the Lundas and Luvales of North-Western Province are divided by the Zambezi River which is supposed to be a uniting factor.
He said as an elected leader, he will find it difficult to rule if people are telling him to appoint individuals to represent them as a region in cabinet.
"These are challenges because there are different tribes in North-Western and now if I said I want somebody from North-Western Province to represent his colleagues, how will I pick if I am being told that this one is Luvale or Lunda. Allow me to choose people on merit," Mr Lungu said.
President Lungu said his decision to appoint Nalolo member of Parliament (MP) Inonge Wina as Vice-President has been questioned by some people for reasons that he lost in Nalolo constituency.
"Only yesterday, I chose madam Inonge Wina to work with me in Government but the reaction I am getting is that `after all you lost in Nalolo'. But this person is brilliant, of national character, a patriot and adds value to the political party," he said.
Mr Lungu said he does not mind coming from a 'small or big' tribe because it does not matter to him.
He said traditional leaders should work on measures of bringing and uniting Zambians using the 'One Zambia, One Nation' motto.
He said he is not condemning anyone for voting in the manner they did but issues of tribalism and regionalism should be addressed urgently.
Zambia Daily Mail