Some suspended PF Central Committee members have threatened to move a motion to expel Acting PF President Guy Scott from his position.
Speaking in an interview with Mano News last evening, PF Member of Central Committee In charge of Community Development and Health Jean Kapata charged that Dr Scot will be expelled as party acting president today saying he has committed another offence by suspending the 16 members of the Central Committee.
Ms Kapata said Guy Scot should be level headed and not to be swayed by what she termed as the cartel.
And commenting on the same, Freedom Sikazwe who is also a member of the Central Committee charged that Acting PF President Guy Scott has no powers to expel anyone as he is merely acting.
Mr Sikazwe the Northern Province said if not checked, Scott will destroy the party.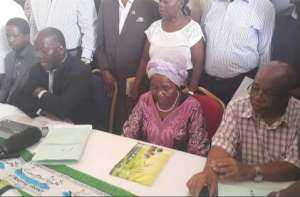 Yesterday, acting PF President Guy Scott suspended sixteen members of the PF Central Committee with immediate effect for defying his orders not to hold the meeting.
Announcing the development at his office, Dr. Scott said the move is in accordance with powers vested in him under Article 61 of the party constitution.
Dr. Scott has wondered why the Central Committee had to go ahead to hold a meeting at Blue Nile Lodge this morning without his permission.
He maintained that the Central Committee meeting expected to be held today at State House at 14:00 hours will go ahead as planned.
The members of the Central Committee that Dr. Scott has suspended include; Inonge Wina, Benson Chali, Rasford Mwale, Fabian Chiposo, John Chipanga, Malozo Shichone, Willy Nsanda, James Kapyanga, Obvious Chisala, Steven Kampyongo, Jean Kapata, Mwenya Musenga, Dr. Joseph Katema and Lazarous Chisanga.
Radio Mano