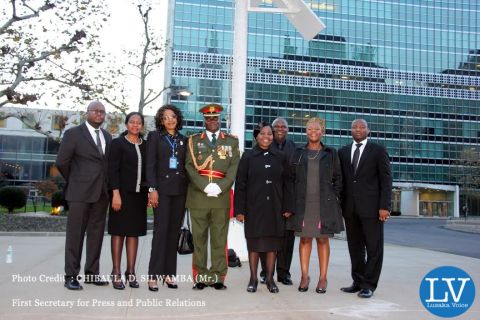 NEW YORK, Tuesday, November 11, 2014 – Zambian diplomats accredited to the United Nations today attended a solemn procession of lowering the UN flag to half-mast in honour of the late President Michael Chilufya Sata.
Zambia UN Mission Charge D'Affaires a.i. Christine Kalamwina led the diplomatic community at the ceremony at UN Headquarters in New York at about 07:30 Eastern Standard Time, about 2:30 PM Central African Time, as the Zambian leader was being put to rest in the capital Lusaka.
UN Security and Safety Service personnel and Zambia's Military Adviser Brigadier General Erick Mwewa saluted the departed Commander-In-Chief during the somber procession.
The UN flag was lowered to half-mast at all its offices across the globe.
Flags of Zambia and 192 other Member States did not fly at UN, a symbol of respect to President Sata who died on October 28, 2014.
After the ceremony, Ms Kalamwina commended the United Nations – and the international community at large – for according President Sata a befitting send-off and comforting Zambians during this time of sorrow.
Issued by:
CHIBAULA D. SILWAMBA (Mr.)
First Secretary for Press and Public Relations
Permanent Mission of the Republic of Zambia to the United Nations