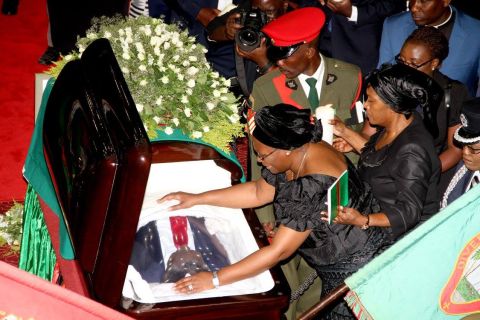 An interdenominational requiem Church service for the late President Michael Sata has been held in honour of the departed leaders at Parliament buildings in Lusaka.
During the church service lasted about two hours, Clergymen took turns in offering prayers for the late president's soul, the first family, the country's leadership and the country as whole.
The President 's body which has been lying in state at the Mulungushi International Conference Centre since 1st November was taken to Parliament buildings and was accorded a 21 gun salute by the Zambia Army and a fly-past by the Zambia Air Force.
Acting President Guy Scott led government Ministers at the ceremony which was also attended by first republican President Dr Kenneth Kaunda and fourth republican Rupiah Banda.
Others who attended the interdenominational requiem church service are opposition political party leaders, members of Parliament and members of the diplomatic corp.
The late president's body has since been taken to State House where it will lie-in-state in readiness for burial tomorrow at Embassy Park the presidential burial site.
While the body is at State House, Head of State who are coming for the burial will be accorded an opportunity to pay their last respects to their departed colleague at 17:00 hours.
And in a valedictory message, Zambia Episcopal Conference vice President Bishop Alick Banda says the lesson to be learnt from President Michael Sata is his desire to make Zambia a greater nation.
Bishop Banda says President Sata had the desire to provide a constitution that will stand the test of time and bring about economic development.
He reminded those who remain in the corridors of authority that they now have a task to fulfill the desires of President Sata especially those that have not been accomplished.
Bishop Banda says this is the only way to mourn the late president greatly.
QFM NEWS