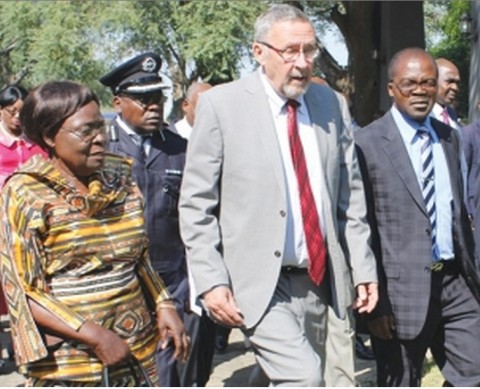 ACTING President Guy Scott has suspended Cabinet and Central Committee meetings until after President Michael Sata is buried on November 11, 2014. Dr Scott has further urged all political parties not to start campaigning for the imminent presidential by-election until Mr Sata is put to rest. Dr Scott said this when he addressed Journalists after signing in the book of condolences at Government House in Lusaka yesterday.
He would also ensure that the ruling Patriotic Front (PF) equally observed the period of mourning without distractions such as in-fighting and campaigning. "During this time, it is unacceptable for people to engage in campaigning for the forthcoming presidential by-election either for themselves or for others. The law enforcement agencies will be vigilant and will not hesitate to step in when inappropriate and illegal activities take place," he said. "To this end, I would like to state that there will be no Cabinet or Central Committee meetings held until after the burial of the late President," Dr Scott said. Dr Scott said the arrival of President Sata's body at the Kenneth Kaunda International Airport in Lusaka today was free for all people to attend regardless of political affiliation. He said the arrival of President Sata's body was a national event and thus no one should be intimidated from witnessing it. "In particular, all political parties in the opposition are most warmly expected to attend," he said. "My own party, the Patriotic Front, will embrace them as fellow mourners of the leader of our great nation.
The police will ensure that peace prevails and violence will not be tolerated," Dr Scott said. Dr Scott urged Zambians to remain fully disciplined and patriotic during the mourning period and as acting President, pledged to leave a legacy of peaceful and fair elections as well as a smooth transition of power. In his message of condolence, Dr Scott wrote: "How I lament the passing of my revered comrade, teacher and leader Michael Chilufya Sata in such an early stage of our reform programme for our country. Rest in peace, we shall protect your legacy brother." PF Secretary General and Defence Minister Edgar Lungu was among other Cabinet ministers, senior Government officials and notables that signed in the book of condolences.
Times of Zambia