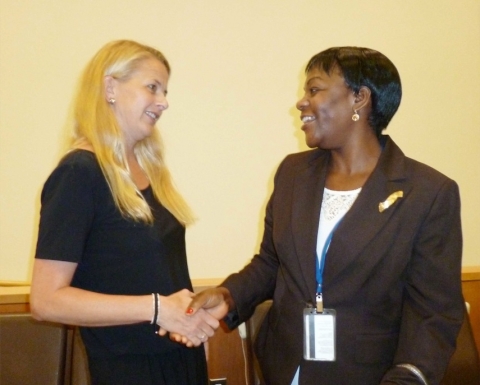 NEW YORK, Sunday, September 7, 2014 – Nobel Peace Prize laureate Archbishop Desmond Tutu and Princess Mabel of Orange-Nassau in The Netherlands will visit Zambia this month to learn about the country's best practices in combating child, early and forced marriage.
Government policies and political will by His Excellency the President, Mr Michael Chilufya Sata and First Lady Dr Christine Kaseba – working with Chiefs, Civil Society organisations and the police – to end abuse of girls and women has attracted the interest of the international community to learn and replicate these initiatives.
Princess Mabel informed Zambia's Deputy Permanent Representative to the United Nations, Christine Kalamwina that she and Archbishop Tutu will travel to Zambia on September 15, to meet and exchange ideas with Government officials and other stakeholders in the fight against child, early and forced marriage.
Princess Mabel is the chairperson of the board of trustees of Girls Not Brides, a global partnership of more than 300 civil society organisations campaigning to end child marriage.
Princess Mabel was the first chief executive officer of The Elders – a group of eminent global leaders brought together by the late Nelson Mandela to promote peace and human rights – chaired by Archbishop Tutu.
The Zambian Government has received international applaud for its best practices in combating child, early and forced marriage.
Partnership of chiefs, civil society and the Government, is one effective campaign being used to fight child marriages in Zambia. Chiefs support the campaign against child marriages, and most traditional leaders have banned child, early and forced marriage in their chiefdoms. Some chiefs are retrieving young girls from forced marriages. Chiefs and their subjects are reporting parents that marry off their young girl children to the police for prosecution.  Chiefs, civil society organisations and Government officials are encouraging parents, and guardians, to prioritise education of girls.
During a General Assembly panel discussion on "Child, Early and Forced Marriage" moderated by Princess Mabel last Friday,Ambassadors of The Netherlands and Canada, and an African Union Goodwill Ambassador commended the Zambian Government for reducing child, early and forced marriage.
Issued by:
CHIBAULA D. SILWAMBA (Mr.)
First Secretary for Press and Public Relations
Permanent Mission of the Republic of Zambia to the United Nations