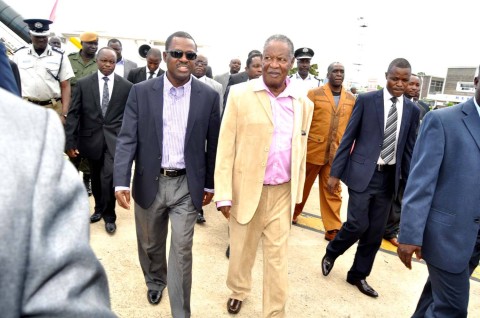 President Sata should take keen interest on what is happening on the Copperbelt PF wrangles after the firing of the mighty Wynter as he is the president of the party. Many things have been resurfaced after the exit of kabimba especially on copperbelt and Lusaka. What has come out very clear is many members where hiding their motives and that is why Kabimba did not spare them. This new curtail will divide the party if Mr. Sata does not strike especially on the copperbelt.
We all have admitted that wynter had gone very far in his duties of the party but has been severely hit as if he was not the beloved son and friend to the messiah president. Wynter does not deserve to be thrown out just like that and PF members should not forget that he defended the party while in opposition when things were hard at the extent of smuggling Kenyans to help the PF win elections and where was kambwili by then? No doubt wynter, Edgar, lubinda, GBM and others did their best for the PF to form the government today. It is now clear that PF is tribal party and controlled by family tree that are busy pursuing the hidden agenda and therefore members of PF should not allow that to happen. Kabob meant well to the party and his strengthening and uniting of all organs were surely inline with party manifesto as compared to others who are just politic noise makers.
Mr. sata should surely analyze what is go on here in copperbelt PF wrangles where the new curtail paraded poor youth without employment to go and celebrate wynters exit and immediately elimination of die hard party leaders and members perceived to be in Kabimba's boat. People like McDonald mulongoti, mupeta and luanshya executive have been shown the exit. Mulongoti has been fought since 2011 because of false allegation of demolition of houses by the new curtail but we all know that he has done a lot to people of chingola like installation of robots in town centre and sanity in issuing of plots in chingola south and other areas.
The question is where the power and funding coming from by this new curtail? Why so in hurry and panic to change party organs in CB in the supersonic speed? It is very clear that they have an objective to achieve at the latter stage hence putting in place their people in better position for the battle. Let me appeal to the president to open up his eyes and see the turning of events in CB and those affected just walk into other parties you are always welcome. What should be made clear is that PF membership in CB is now living in fear as they are wondering the agenda of the Copperbelt leadership now that Kabimba has been fired.
By Lusaka Voice Reader.
BY SHI WILLIAM-CHINGOLA