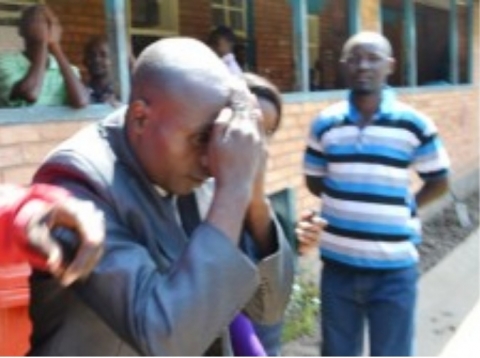 WIFE of 'vanished' Bishop Dominic Nyondo, Marble Katongo, says the body police retrieved from Kafue River in Kitwe is not that of her husband.
Mrs Katongo told media at Kitwe Central Hospital: "The underwear is not my husband's and he also has a hairy body. He has a scar near his mouth but I am not able to see these features because of state of the body. I am sure that the body that I have seen is not of my husband," Mrs Katongo said.
Mrs Katongo, who was accompanied by her relatives and police officers to the morgue, said she could not fail to identify her husband's body.
She was called to identify the decomposed body after police on Monday night retrieved a body of an unknown man near Kafue River.
And some police sources, who conducted the operation, said yesterday that the body is not that of Holy Fire Ministries Bishop Nyondo, who is alleged to have committed suicide.
Bishop Nyondo was appearing before court facing charges of defilement, rape and indecent assault on women members of his church before he was last week reported to have committed suicide.
Copperbelt Province commissioner of police Joyce Kasosa has refuted media reports that the body retrieved was that of Bishop Nyondo, who reportedly committed suicide by throwing himself into the Kafue River.
Ms Kasosa said in an interview in Ndola yesterday that police are yet to identify the body of the man.
Zambia Daily Mail