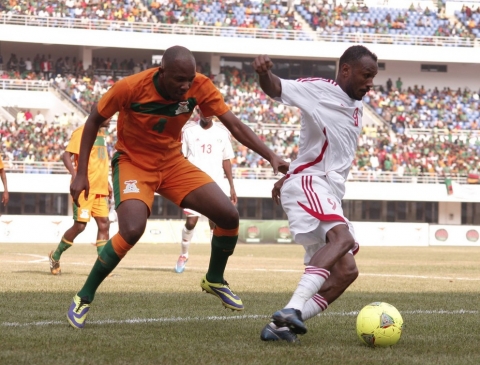 ZAMBIA 3 – 1 SUDAN | MATCH REPORT

A goal each from Christopher Munthali, Given Singuluma and Mukuka Mulenga saw an under-strength Zambia defeat Sudan 3 – 1 in an international friendly match at National Heroes Stadium on Sunday.
Sudan's lone goal was scored at the death from the penalty spot by Bakri Ab Elgadir Babeker.
Both teams started the match on a slow note but it was Sudan who got the first attempt on goal when Bruce Musakanya gave away possession through a misplaced pass with the ball falling to Bakri Elgadir who shot wide under pressure from the Zambian defence.
However, Zambia did not relax as a minute later Jonas Sakuwaha attempted from inside the Sudan's area but his effort flew over and wide of Elmoiz Maghoub in goal for Sudan.
Ten minutes into the match Fwayo Tembo noticed that Maghoub was out of postion and cleverly attempted to chip the ball over a Sudanese defender but the latter was alert and claered.
However, Zambia would not be denied and got the opener on 15 minutes when Christopher Munthali slid in at the far post to score from a free kick delivered by Fwayo Tembo from the right flank just outside Sudan's penalty area. The free kick was won by Bruce Musakanya.
After that Sudan tried their best to find an equaliser but they only had two chances when Nazar Hamid Nassir ran at Zambia's defence from midfield and managed to break through but only managed a tame effort which was saved by Munyao. Another chance in the 32nd minute fell to Bakri Ab Elgadir Babeker who was positioned inside the box but miscued his effort from Abd Ellatief's square pass from the left by-line.
Immediately after Ellatief's missed chance Kabaso Chong raced with the ball on the right wing beating two defenders in his path before delivering a perfect cross for Given Singuluma to score with a bullet header that came off the cross bar before crossing the line for Zambia to double the lead ten minutes before the break.
The last chance of the first half fell to Abd Ellatief who sent his effort wide following some enterprising play by Bakri Ab Elgadir Babeker.
The second half saw both coaches make several changes as Janza brought in Mukuka Mulenga, Adrian Chama, Toaster Nsabata, Winston Kalengo, Ronald Kampamba and Julius Situmbeko for Given Singuluma, Christopher Munthali, Danny Munyao, Fwayo Tembo, Jonas Sakuwaha and Bruce Musakanya respectively.
Sudan coach Mohammed Abdullah Mazda was forced to make a change just before the break as Faris Abdallah Mamoun replaced Abd Ellatief Saeed who is taken off due to injury. Mazda effected three more changes as he brought in Salah Ibrahim Hassan, Galal Aldeen Abraheem and Ramadan Agab Shareif to replace Mohammed Ahmed Bashir, Balla Gabir Kortokaila and Nazar Hamid Nassir.
Zambia's chance in the second half fell to substitute Winston Kalengo who saw his effort come off the wood work in the 75th minute but Sudan asserted themselves and started to put pressure on Zambia's defence as Salah Ibrahim Hassan had two attempts on goal in the last five minutes of the match before he won a penalty which was scored by Bakri Ab Elgadir Babeker in additional time.
Before Sudan reorganised Ronald Kampamba combined with Mukuka Mulenga inside the box and the latter with some work to do rounded goalkeeper Maghoub before firing into an empty net for Zambia to win their first match at the National Heroes Stadium 3 – 1.
The match was played as part of Zambia's preparations ahead of Group F opening match of the 2015 Africa Cup of Nations qualifier to be played against Mozambique in Ndola on September 6.