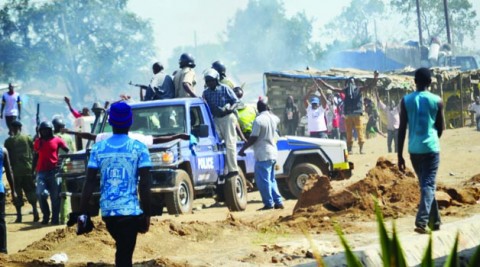 TEN people have been arrested after Police and suspected members of a drug gang clashed in Lusaka's notorious Chibolya Township yesterday.
A failed raid by the Drug Enforcement Commission (DEC) sparked the violence which also left two private vehicles torched during the skirmish.
Police and the DEC have over the years struggled to clean up drug activities in Chibolya, leaving the illicit drug dealers to operate at will, selling cannabis, cocaine and heroin, among others.
Lusaka Province commissioner of police, Lemmy Kajoba reiterated that the law enforcement agencies would re-strategise on a soon-to-be embarked drug operation in Chibolya.
Confusion started after some DEC officials conducted a raid at Chibolya Market to check for drugs but this annoyed the traders who beat up the officers.
Teargas and smoke from burning tyres fumed the air around the market as armed riot police fired teargas canisters to control the stone-throwing marketeers.
Members of the public were turned away from using the road leading to Chibolya Market and only watched as police swung into action to control the violence.
Mr Kajoba said the DEC operation lacked adequate backing from the police resulting in the violence.
"We will not continue to watch the growth of criminal activity in Chibolya. This they can't do and we will move in, full throttle to correct the nuisance there. We will strategise and engage in a deep operation in Chibolya.
"What happened yesterday was an aftermath of a DEC operation which has been going on for the past two days," he said.
He said Chibolya should not be a haven for criminal activity especially illegal drug trade and condemned the response of the unruly youths, who threw stones at the officers.
A resident who spoke on condition of anonymity said DEC officers attempted to arrest suspected drug dealers but were over powered by angry marketeers.
"The DEC officers came here and wanted to arrest some suspects but they were roughed up by the mob at the market and they ended up producing pistols and threatened to shoot, this is when they called for police, who came to restore order," the source said.
By Press time, the situation had normalised while police were still conducting patrols in the area.
Times of Zambia