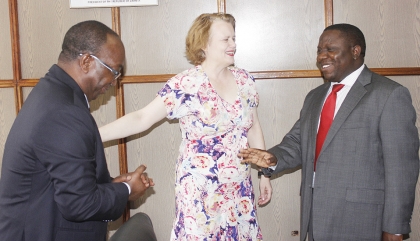 MINISTER of Foreign Affairs Harry Kalaba has challenged the United Nations (UN) to take a leading role in helping Zambia to come up with proactive interventions to alleviate extreme poverty, hunger and disease by 2015.
Mr Kalaba says UN agencies should continue playing an active role in complementing Zambia's development efforts of reducing poverty, hunger and disease to enable the country to attain all the millennium development goals (MDGs) by next year.
The minister said this in Lusaka yesterday when he received credentials from newly appointed UN Country Director Janet Rogan.
Ms Rogan takes over from Kanni Wignaraja, who has been re-assigned to New York.
"The multi-dimensional and relentless development efforts made by the UN in Zambia have continued to make a positive impact on the livelihood of our people," Mr Kalaba said.
"The presence of the UN system in the country has certainly eased the heavy burden we face as a developing country in areas such as poverty reduction, the fight against HIV and AIDS, the provision of improved education and health facilities, among others," he said.
Mr Kalaba said progress in attaining MDGs has been an important preoccupation for Government from the time UN member states adopted the millennium declaration.
"With barely a year to go before the end of the target date and the onset of the post-2015 development agenda, we have continued to engage with other member states on the best mode of implementing the post-2015 agenda and the sustainable development goals," the minister said.
"I note from the last MDG progress report for Zambia, which was launched in 2013, that whilst we have made some commendable progress in some MDGs, more needs to be done in reaching goals such as those relating to poverty eradication, maternal and child health and environmental sustainability," he said.
Meanwhile, Ms Rogan commended Government for its exemplary role in promoting unity among Zambians and living in peace over the last 50 years since the country joined the UN as an independent state.
"Zambia has long been, and continues to be, a generous haven for those fleeing violent conflict.
You are now taking an innovative and people-centred approach to the sustainable integration of former refugees in Zambia, which may serve as a shining example to others," Ms Rogan said.
She also congratulated Zambia for assuming chairmanship of the UN Land Locked Developing Countries (LLDC) group.
Ms Rogan reaffirmed the UN's commitment to supporting Zambia's sustainable development priorities, including reducing poverty, equitable access to health ,  respect for the rule of law and human rights according to the Universal Declaration.
And Mr Kalaba has called on Danish businessmen to explore investment opportunities in the country.
Mr Kalaba said there is need for the two countries to enhance business and investment opportunities to help improve the living standards of the people of the two countries.
He said this yesterday when Danish honorary counsel to Zambia Sipho Phiri presented his credentials to him.
Mr Kalaba said the Zambian economy has numerous opportunities that can be seized by Danish investors in mining, agriculture and agro-processing, infrastructure development, construction, health care and tourism.
And Mr Phiri pledged the Danish government's continued financial and technical support to Zambia's development agenda.