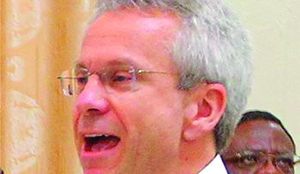 BRITAIN has praised [the] Government for passing the Business Regulatory Bill in Parliament to help more businesses grow.
British High Commissioner to Zambia, James Thornton said the Bill would set the foundation for greater dialogue between Government and business in the formulation of policy.
Mr Thornton said it would provide a more systematic approach to understanding the impact of any new policy on business before it was introduced.
He was speaking at the Regulatory Impact Analysis (RIA) cocktail held at Taj Pamodzi Hotel in Lusaka on Thursday evening.
Mr Thornton said all business entities needed regulation and rules in place to ensure they treated their employees properly, paid their taxes and cared for the environment.
"Our support comes at a time when our Department for International Development is also scaling up its work on economic development across the world, including here in Zambia.
"Our Government is fundamentally working on the same agenda of creating an environment where business can grow and create jobs and trade with each other for the benefit of all," he said.
Speaking at the same event, Permanent Secretary at Cabinet Office Bernard Kamphasa said the reform of the business regulatory analysis would make the licensing regime simpler, transparent and focused on legitimate regulatory purposes.
Times of Zambia