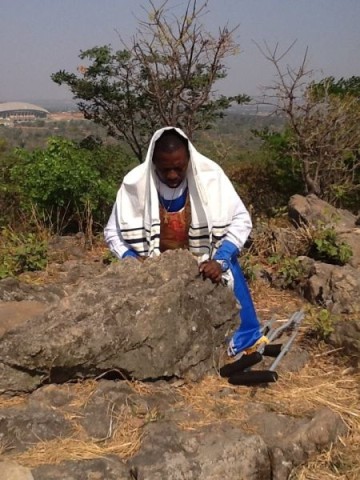 Whacky rituals that include the shaving of hair from all parts of the body and wearing rings like Satanists do have been exposed by disaffected members of a church in Lusaka.
Former senior members of the Reboboth Naphtali Mkadesh Ministries state in a petition to the Chief Registrar of Societies, Kakoma Kanganja, that the church prophet, Haggai Mumba, must be probed for unbiblical deeds.
But Prophet Haggai dismisses the claims as mere persecution and welcomes any probe in his and the church's activities.
The former congregants accuse the 35-year-old prophet of instructing his members to shave their private parts, armpits and heads and take the hair to a mountain near Mwana Mainda on the Kafue-Mazabuka road.
Another accusation in the petition in possession of the Sunday Mail is that members were told to contribute money and leave it on the mountain at Mwana Mainda.
They also said members were told to tie themselves up and chant at the mountain.
Another claim is that members were told to buy rings and instructed to wear them on the middle finger as Satanists do.
They further accuse Prophet Haggai of declaring deaths of politicians and allege that he has affairs outside marriage.  They say some of the relationships have resulted in pregnancies.
One member says he once approached Prophet Haggai over an alleged illicit affair the church leader has with a Botswana-based woman.
The Sunday Mail phoned the said woman to enquire about her alleged relationship with Prophet Haggai.  Her response was "No comment".
She cut the line without answering further questions.
Bishop Alick Mbewe of Assemblies of God says he is Prophet Haggai's close friend and mentor and he confessed to shaving the prophet's head during a church service.
Bishop Mbewe said Prophet Haggai told him God was taking him higher spiritually and he needed to shave his head.
He said he shaved Prophet Haggai's head at his (Prophet Haggai) church in the company of other pastors and in full view of the congregation.
Bishop Mbewe says he is surprised that his name is now linked to the misdeeds when he acted out of innocence.
"I was shocked at the Registrar's office to hear of all the cultic things Prophet Haggai is involved in. I didn't know the man does such things behind the scenes," he lamented.
Haggai denies all the allegations levelled against him.
He admits though that he had his hair shaved by Bishop Mbewe in church because he (Prophet Haggai) was going into fasting as part of consecration.
When asked why on his Facebook page he appears in a photo wearing a wedding dress, he said he was trying to teach people against homosexuality.
He said people are speaking ill of him because he has achieved much at a young age.
Prophet Haggai also said many other men of God in Zambia have gone through the kind of persecution he is experiencing.
"If people are not happy with me, they should find better channels of expressing it. They should have gone to the church mother bodies who should investigate me," he said.