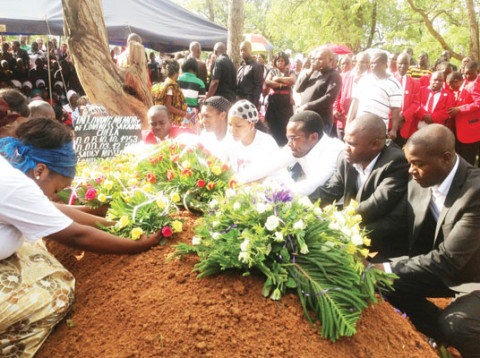 GEORGE Chellah has described his mother, Loveness Sakanya Chellah, as a lovely person who guided him through childhood and encouraged him to pursue the career of his dreams.
Mr Chellah, the President's special assistant for press and public relations was speaking in an interview yesterday just before his mother's burial in the mining town of Kitwe.
"It is going to be very hard for me to wake up and find that my mother is no longer with us," Mr Chellah said. "She played a very crucial role in mentoring me and supporting my dreams to become a journalist. She was very supportive from grade three as far as I can remember when she used to bring me papers from work while she worked as a secretary at the ZCCM."
And reading a personal message on behalf of the family during the requiem mass at the United Church of Zambia (UCZ) in Kitwe, Mr Chellah drove several mourners to tears as he described his mother as a good person and that he would have fond memories of her forever.
The ceremony started on time at 12:30 hours and ended after 17:00 hours.
The church was packed beyond capacity, leaving several mourners standing outside while curious onlookers gazed and stopped at the roadside, trying to figure out what was happening.
There was even greater interest when Minister of Justice Wynter Kabimba who was sent by President Sata to attend the mass, walked into the overflowing church to the surprise of many.
Mr Kabimba, who is also Patriotic Front (PF) party secretary general, took time off his schedule to personally help console Mr Chellah.
Mr Kabimba described Mr Chellah as a younger brother and conveyed condolences from President Sata.
He said Mr Chellah would be part of the history of Zambia in a positive way and he was happy that his mother Loveness had instructed her children to walk under the shadow of God.
Copperbelt province Minister Mwenya Musenge described Mrs Chellah as an older sister and a good person.
The funeral was attended by several high ranking government officials and businessmen, virtually bringing the mining town to a proverbial standstill.
It was coloured by smartly clad United Church of Zambia (UCZ) women in their distinct red, black and white uniforms.
As the choir sung during the mass, Mr Chellah broke down, no longer able to hold back his tears.
Other prominent government officials that attended the mass included Gender deputy minister, Freedom Sikazwe, all Copperbelt district commissioners and almost the entire provincial party leadership.
Kitwe residents described the funeral as one of the largest they had seen in the town with scores turning up to show Mr Chellah support.
Mrs Chellah who died last Tuesday aged 59, was put to rest at Nkana East cemetery.