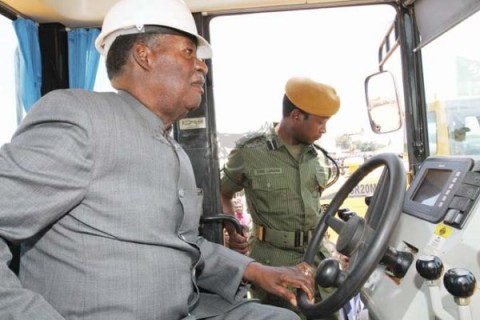 John Moyo is at the end of the road. At least now it's paved.
"I never imagined a paved road coming to my village," said the spry and bespectacled 82-year-old Zambian as he sat in the shade of a tree. About 42 km (26 miles) of freshly tarred road, replacing a gravel one, end exactly at his homestead.
President Michael Sata's drive to upgrade the country's rough roads, which often become impassable in the rainy season, is popular with many Zambians like Moyo. But foreign investors, who must partly fund such ambitious schemes, are less keen on his costly promises and very public dust-ups with business.
Sata swept to power in 2011 on a platform to defend workers' rights, create jobs – and pave roads.
The government plans to continue paving a winding route beyond Moyo's home about 50 km south of Lusaka for another 400 km to the Zimbabwean border, part of the campaign to seal 8,000 km of dirt roads in the landlocked southern African country.
Sata is pursuing his vision with gusto, building on a legacy of reforms in Africa's top copper producer that are helping many of the 14 million Zambians to climb out of poverty. With annual economic growth rates of 7 percent and more, the World Bank now classifies Zambia as a lower-middle-income nation rather than low-income, meaning its gross national income per person has risen above about $1,000.
His government has tapped global capital markets – unthinkable a few years ago – to help fund the 31.4 billion Zambian kwacha ($5.6 billion) road project. Zambia's debut $750 million Eurobond last year was oversubscribed 15 times.
Now Sata, nicknamed "King Cobra" for his sharp tongue, is unnerving investors, threatening his ability to raise the affordable capital required to meet his development promises.
His disputes with South African retailer Shoprite and Konkola Copper Mines – Zambia's biggest private sector employer which is owned by Vedanta Resources – over their plans to fire or lay-off workers, has cooled what was becoming one of Africa's more promising investment climates.
At the same time, Sata is pursuing …..