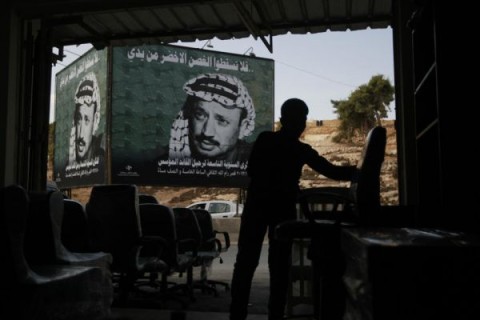 Israel is the only suspect in the 2004 death of Yasser Arafat, the chief Palestinian investigator in the case alleged Friday, a day after Swiss scientists said the Palestinian leader was probably poisoned by radioactive polonium.
The investigator, Tawfik Tirawi, said the probe would continue, but did not say what more the Palestinians could do to try to solve the mystery.
He did not present evidence of Israeli involvement, arguing only that Israel had the means and motive to do so. Israel has repeatedly denied it was behind Arafat's death, and did so again Friday, in light of the new allegations.
Arafat's widow, Suha, has called on the Palestinians to seek an international investigation or legal action, but Tirawi said such a decision is up to the Palestinian leadership. Arafat's successor, President Mahmoud Abbas, has so far not commented on the substance of the Swiss team's findings.
Arafat's grave was opened earlier this year, enabling Swiss, Russian and French scientists to take samples of remains and burial soil for separate investigations.
At Friday's news conference, Palestinian investigators summarized the findings of the Russian experts, whom Abbas had asked for a separate probe.
Dr. Abdullah Bashir, the medical expert on the Palestinian team, said the Russian scientists did not find sufficient evidence to determine that "polonium-210 caused the radiation that led to the death." He did not elaborate.
However, both teams determined that Arafat did not die of disease or old age, "but rather, by poisonous material," Bashir said, adding that "this supports our theory."
The Russians were also looking at the possibility of other poisons, Bashir said, adding that more study was required.
Tirawi, meanwhile, was evasive when asked repeatedly whether he believed Arafat was killed by polonium.
"It is not important that I say here that he was killed by polonium," he said. "But I say, with all the details available about Yasser Arafat's death, that he was killed, and that Israel killed him."