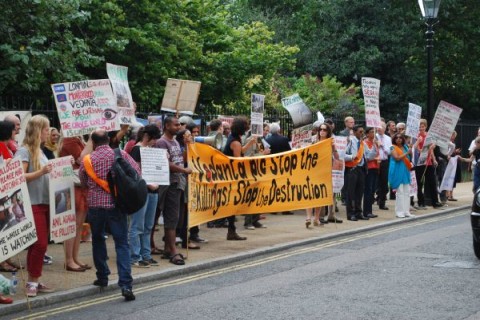 Konkola Copper Mines (KCM) has again found itself on the wrong side of the law this time polluting water sources on the Copperbelt.
Local Government and Housing Minister Emerine Kabanshi has since given the mining firm three weeks in which to find a lasting solution to the continued pollution of water sources.
Speaking at a media briefing in Lusaka today, Ms Kabanshi says failure by KCM to adhere to their environmental obligations may force government and other stakeholders such as the Zambia Environmental Management Agency (ZEMA) to take appropriate action.
Ms. Kabanshi notes that the continued pollution of water by KCM on the Copperbelt has resulted in Nkana Water and Sewerage Company closing two of its water treatment plants.
She adds that the Copperbelt Provincial Local Government office, KCM and other Laboratories have all confirmed that the water is heavily polluted with sulphates forcing Nkana Water and Sewerage Company to close Mwambashi Dam barely a month after its rehabilitation because of the unacceptable high levels of sulphate and total hardness in drinking water.
Ms. Kabanshi says this has also resulted in inadequate water supply in Kitwe and Kalulushi.
She states that preventing environmental pollution is not a mere corporate social responsibility but a mandatory obligation, adding that KCM has a legal obligation to manage and control their effluents in an acceptable manner set by ZEMA.
MS. Kabanshi has urged KCM to take the ZEMA obligation seriously and stop discharging their mining effluents but find ways of sufficiently diluting them.