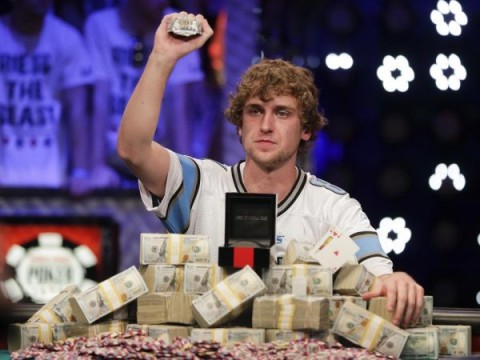 A 23-year-old poker pro from Michigan won the World Series of Poker main event late Tuesday, claiming the $8.4 million title after pushing past his last opponent in a brief, dramatic match.
Ryan Riess started out behind on Tuesday, but used cleverly varied play to seize and maintain a lead amid the unpredictability of no-limit Texas Hold 'em.
On the last hand, 29-year-old Las Vegas club promoter Jay Farber went all-in with a Queen-Five. Riess, dealt an Ace-King, rightly suspected his opponent wasn't holding much and called instantly.
Riess backed into the stands to watch the cards turn, and won the championship with the arms of his girlfriend around his shoulders.
Moments later, he kissed the diamond-encrusted championship bracelet he's been chasing since he was 14 years old. After tearfully thanking his friends and family, he told reporters, "I just think I'm the best player in the world."
Ryan Riess watches as the dealer draws the river card on what was the last hand of the World Series  …
Riess came out sparring as the night began at the 1,600-seat theater at the Rio All-Suite Hotel & Casino off the Las Vegas Strip. Rubber-banded stacks of hundred dollar bills representing the grand prize sat on the table like a third player.
Farber started 19 million chips ahead with 105 million, but Riess soon brought the score virtually even. The tide turned definitively about two hours in, when Riess took a $58.5 million pot with pocket Jacks.
Riess then brought out a more aggressive style he hadn't yet shown at the final table, forcing Farber to fight— too often with the weaker hand.
"I just decided to turn the pace up and drive him down," Riess said.
His fans, a collection of clean-cut men in white "Riess the beast" T-shirts, chanted and stomped each time the boyish player with a mop of strawberry blonde hair used his chip advantage to go after Farber.
Ryan Riess holds up the championship bracelet after defeating Jay Farber for the $8.4 million payout …
Riess spent most of the night hunched over his chips, tracing small circles on the green felt and giving Farber occasional wan smiles.
Had the event been a trash-talking contest, Farber's side would have won hands down. His fans— stylish club kids with tight T-shirts and slick hair under fuzzy panda hats— taunted Riess about his gangly height, his need for a haircut, the poor fortunes of Detroit, and the performance of Detroit Lions wide receiver Calvin Johnson, whose jersey Riess wore during both days of play. Riess' side's only retort was that pandas are delicious.
Both sides watched with fists pressed to light lips as Farber's fortunes plummeted.
With just 14 million in chips to Riess' 176 million, Farber made his stand with a Queen and five of spades. He went all-in before any community cards were revealed, only to run into Riess' Ace and King of hearts when the younger player called.
It didn't look promising, but Farber still had a chance — that is until the first three community cards came four-Jack-10. That meant a Queen would now make a straight for Riess, so only one of the three remaining fives in the deck could boost Farber. Neither the fourth nor the fifth community cards brought any help, and Riess was champion.
Ryan Riess holds up the championship bracelet after defeating Jay Farber for the $8.4 million payout …