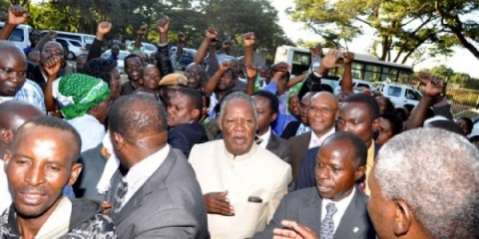 PRESIDENT Sata has urged Zambians not to take the country's peace for granted but should guard it jealously because Zambia is a beacon of hope for many African countries.
Mr Sata said the hard-earned unity should not be taken for granted and that Zambia is proud of holding peaceful democratic elections, a record all citizens should be proud of.
The President said this in his address to the nation on Zambia National Broadcasting Corporation radio and television last night ahead of the 49th Independence Day celebrations today.
"As a people, we must be on guard against those who want to fan disunity in our country, be it for political or economic reasons. Since her independence, Zambia has been governed by five presidents from three different political parties on the basis of peaceful change of governments through regular, free and fair elections," he said.
The five presidents that have governed Zambia are Kenneth Kaunda of UNIP, Frederick Chiluba, Levy Mwanawasa, Rupiah Banda, all from MMD, and Mr Sata himself from the Patriotic Front.
"In Africa, this is a record that we should be proud of and spur us to deepen our democracy. Democracy confers on each one of us rights, responsibilities and obligations which are spelt out in the republican Constitution," Mr Sata said.
President Sata said often, people tend to emphasise their democratic rights at the expense of their responsibilities and obligations.
He said it is important to strike a balance.
Mr Sata said as the country's democracy develops, this should be done with a sense of mutual respect and tolerance so that in the process, the democratic foundations on which Zambia is built are strengthened.
The head of State said despite being a country of 73 tribes, Zambians have continued to live together in harmony because of the sustained efforts of the founding "fathers and mothers" who were determined to create a unitary state of equal rights and obligations.
President Sata said the `One Zambia, One Nation' motto has brought Zambians together and are all witnesses to the fact that Zambia is united in diversity as exemplified by inter-marriages and other social and religious groupings that transcend ethnicity.
He urged Zambians to take time to observe and celebrate the Independence Day with remembrance and deep gratitude to the people who made it possible for everyone to be free today.
"The road to independence was not an easy one. However, our gallant men and women remained resolute and persevered till they liberated us. We are eternally indebted to them," President Sata said.
The President also advised youths in the country against being used as tools of political violence and anarchy because they are the torch-bearers of Zambia's future.
"I appeal to our youth to release their minds from the shackles of negative thinking which holds them from their true purpose of expressing all that is good in a creative way. Identify the level of your creative ability and express it for the benefit of your motherland," President Sata said.