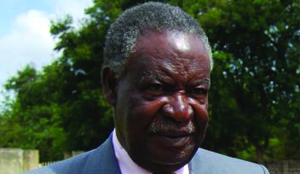 PRESIDENT Sata says he is deeply saddened by the death of former Minister of Defence Benjamin Mwila.
Mr Mwila died in South Africa on Saturday.
In his message of condolences to the Mwila family, President Sata said the late Mr Mwila, 70, rendered a gallant service to the country and its people.
This is contained in a statement issued in Lusaka yesterday by special assistant to the President for press and public relations, George Chellah.
"It is with a deep sense of shock and sorrow that I offer my heartfelt condolences to the Mwila family on the loss of this dedicated and steadfast compatriot," Mr Sata said.
The President said he remembers the late Mr Mwila from his early days as a proficient entrepreneur who devoted his professional and political career to the cause of the country.
"No doubt, during his distinguished business and political career, our departed colleague served this country with brilliance and vigilance in the many national tasks he executed.
"Therefore, his distinguished services will be deeply missed by all of us.
We beseech the Almighty God to grant the bereaved family comfort and strength during this difficult period," Mr Sata said.
The late Mr Mwila served as Minister of Defence in the first MMD Cabinet as well as Minister of Energy and Water Development, among other positions.
And Mr Mwila's son, Joe, said his father died at a South African hospital where he was admitted for malaria for two weeks.
The funeral gathering is at House Number 9721, Central Street in Chudleigh, Lusaka.