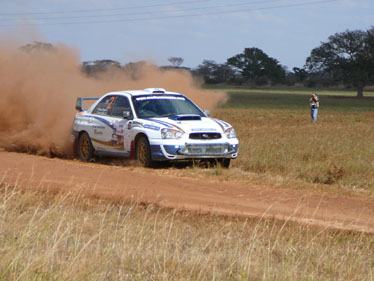 ZAMBIA national rally champion Jassy Singh yesterday moved to second on the FIA African Rally Championship (ARC) chart despite finishing eighth in the Pearl of Uganda Rally in Kampala.
And Jas Mangat won the Pearl of Uganda Rally to remain in pole position to win his maiden ARC title.
Singh, son of two-time African champion Muna, and co-driver Davey Sihoka in their Subaru Imprezza N10 struggled in unfamiliar terrain but made sure they finished the race to keep alive their ARC title bid.
ARC title contenders bore the full brunt of the Pearl of Uganda Rally rough terrain with only winner Mangat and Singh finishing the race.
Reigning African champion Mohammed Essa and Rwandan Giancarlo Davite crashed out of the gruelling rally, thus leaving Mangat to consolidate his lead.
Mangat is leading the race on 83 points, 17 ahead of second-place Singh, 33 better than Essa while fourth-place Davite on 33 points is virtually out of the title race.
"It was a tough experience, we did a fantastic job in pretty difficult terrain. Had a small scare when we met a cow on a jump and forced us to jump off the road into a swamp lost about 40 minutes. Competition has been really tough congratulations to Jas (Mangat)," Singh said.
"It is such a fantastic feeling to win one of the most challenging rallies. The car was brilliant throughout. Looking forward to the Rwanda Mountain Gorilla Rally," Mangat said.
Mangat, in a Mitsubishi Evo 10, just needs decent positions in the remaining two championships to clinch the ARC title.
The remaining rallies next month – Rwanda Mountain Gorilla Rally and International Madagascar Rally slated for November in Antananarivo.