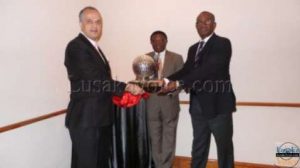 THE Zambia Open Golf tournament organising committee says it has met its budget of KR3 million for hosting this year's tournament.
Speaking at a corporate breakfast on May 9th, Zambia Open chairman Robert Chomba said the tournament was ready to tee-off on Tuesday after all preparations were concluded.
This year's Zambia Open will start with two proams with first one on Tuesday sponsored by Indo Zambia Bank and the second one on Wednesday sponsored by Airtel Consortium.
The actual Zambia Open is expected to tee-off on Thursday.
The prize money for the winner has been maintained at SAR192,000 from last year.
Chomba said the organising committee was determined to host a consecutive successful Zambia Open after last year's.
"All your money has been put to good use, the (golf) course is in perfect conditions and it had helped us with all the preparations," Chomba said.
"We are looking forward to host another successful tournament, the Zambia Golf Union looked at how successful we held the last one last year and decided to give us even this year."
Chomba further said golf was a big ingredient for tourism in the country.
He said there were a lot of areas countrywide that could be developed into tourist attraction and have a golf course built.
"We have lying potential tourist attractions which if a hotel and a golf course was built there it could bring in a lot of tourists. These are the areas I would urge the corporate world to invest in," Chomba said.
And Pamodzi Hotel managing director Sanjay Sood pledged continued partnership between the organising committee and the hotel.