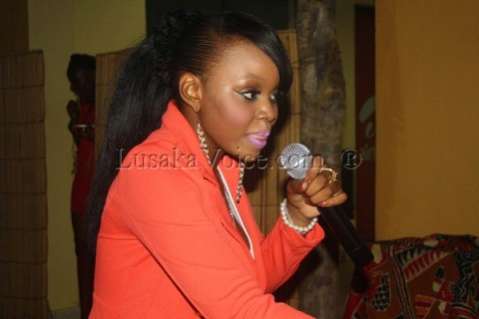 ZAMBIA renowned artist Jordan Katembula aka JK tells Congolese artiste
DaCosta aka Arcel Kabamba from Lubumbashi to remix his *'baby touch
me'*hit  track
that was released last year but ends into a heated debate.
After JK and DaCosta put up a splendid show which received massive support
at Last point former Nshingo house in Chilenje last Saturday the two got
into a heated debated when JK suggested that he should remix his hit
track *baby
touch me** *featuring him (JK) and various African artist.
DaCosta who could hardly express himself in English but only spoke through
his interpreter said he did not want his song to be re done because he
feels his fans enjoys it the way it is,
" I don't want to remix my song I think my fans love it the way it is, look
at the way they were dancing and singing along, I love it just the way it
is too,  leave my song alone," he said.
However JK  who persistently tried to persuade him when he offered to make
him big in the music industry,
"I can make you big, you can have big money like me, I have connections
with Channel O, Trace, MTV base and Afro music, who can sale your music to
the world," he said.
JK further offered DaCosta to pay for his accommodation up to the time they
could
conclude the deal, but DaCosta insisted that he should leave on Monday.
DaCosta has however suggested that they do another song featuring JK and
other African artists and not to do the remix of *baby touch me*.
JK has however said the will soon finalize the deal, as it could not be
concluded,
"I am making arrangements for DaCosta to come back in the next two weeks,
we didn't conclude because I had a funeral and he was travelling back to
Congo DR," he said.
The first time DaCosta performed at Lusaka's Smugglers Inn on September 7
last year he complained of the poor show because of the low turnout.