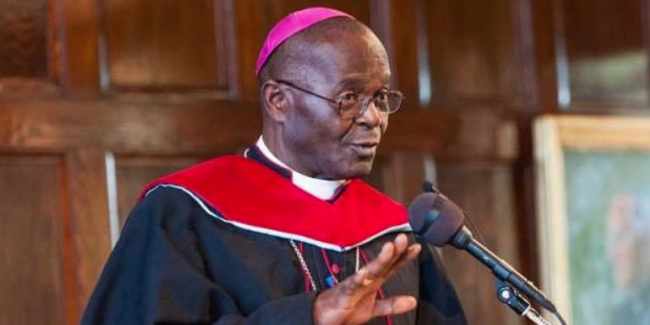 ARCHBISHOP Telesphore Mpundu says there is institutional violence going on in Zambia and that "no one can deny that and claim to be sane."
He said what Zambians do to one another; "we are cannibals to one another. We become parasites! We don't do unto others what we would like them to do to us. But rather we do unto others what they do to us."
Speaking at Hotel InterContinental in Lusaka during the 20th anniversary commemoration of UPND's existence on Friday, Archbishop Mpundu, who was guest speaker, wondered why political violence had continued to reign, 54 years after the country's political independence.
"Each time we have an election or a by-election is a time of anxiety, time of violence. The causes of political violence find their roots in sin and pride and lust for power as its offspring. The perennial temptation of human beings is to want to be like God. There are many examples of modern life where human beings would like to be like God," Archbishop Mpundu said.
"Violence did not take a long time to come. Brothers Cain and Abel, because of this lust for power; Cain killed his own younger brother Abel."
The clergyman noted that political violence was primitive because it was based on intolerance.
"It is undemocratic because it frightens anyone with a different point of view from expressing their opinion and thereby gaining an unfair advantage in competing for approval of the electorate. Two years before the presidential and general elections here in Zambia, the nation is full of little else other than politics and political campaigns," he lamented, adding that political violence was dangerous because it was a recipe for widespread violence, civil war and ethnic cleansing.
"The brutality of violence and its utter futility are shown by the fact that most on receiving end of violence are the weak such as children, women, the elderly, the physically and mentally challenged and those that have no voices at all."
He said the bedrock of political morality was for the country to move forward.
"If you want to move forward, the political morality is there that says 'do unto others as you would like others do unto you'. What I'm trying to say here is that we are created in the image and likeness of God," Archbishop Mpundu said.
"We know exactly what is wrong; we know exactly what we should not do. We know exactly what is evil [and] we do not even need religion for that. We have God's law written in our hearts! But what we do to one another; we are cannibals to one another. We become parasites! We don't do unto others what we would like them to do to us. But rather we do unto others what they do to us. [There is] institutional violence that goes on in this country and no one can deny that and claim to be sane. It is tempting to come up with the argument [that] we were doing it only in self-defence. But in self-defence you can come up with a military strategy, preemptive strike. Self-defence? No! It isn't? We are God's children; we don't need to be Christians, Muslims, we don't have to be people who have allegiance to traditional religion. We abhor totally violence!"
Archbishop Mpundu regretted that immediately Zambia got independence in 1964, "we became more brutal to each other than the British [were.]"
"Institutional violence, abuse of the judicial process to persecute our political enemies; this is violence but violence which is 'baptised.' Nobody sees that it is wrong because it is being done by the State. The public order Act! All political parties that have gone into government – MMD, PF – were speaking against the public order Act. [But] as soon as they go into government, they hold on to it! This is institutional violence [and] it is making us like gods," said Archbishop Mpundu.
Meanwhile, various UPND stalwarts and some other opposition leaders gathered on Friday to celebrate the party's continued existence, with current party leader Hakainde Hichilema remarking that the seed that the opposition party's founding president Anderson Kambela Mazoka planted lives on and is taking deep roots in Zambia, 20 years down the line.
Hichilema, who started his address with a pro-Mazoka jingle, told party members to remain steadfast and steer the party to higher heights.
The anniversary was themed 20 years in the struggle for economic freedom with 54 years of political independence.
According to Emmanuel Hachipuka, a former Mbabala member of parliament who delved into the party's archives, the UPND was registered as a political party on November 20, 1998 and the pronouncement of its birth was done in Kabompo district in North-Western Province and later officially launched on December 24, 1998 at Mulungushi International Conference Centre in Lusaka.
Hichilema told the UPND membership that: "If you fear to do the right things, you are signing a warranty where you agree to be oppressed."
He told party members not to be seeking public office to be praised because "you will be disappointed."
"You should do your work without expecting praises. If you do your work correctly, even you will be happy along the way. So, we don't seek to be praised every day because if we do that, we will lose direction," Hichilema said.
Hichilema said the UPND would continue growing.
"A lot has been said about the history of the party and it will be unfair for me to regurgitate what has been said. All I was to emphasise about the history of the party, in addition to what has been said, is that the seed that that man (pointing at Mazoka's picture) planted, together with his colleagues, germinated during his term," he said.
"But I want to say to you that that seed which was planted lives on. That seed, Kambela, lives on and it is taking deep roots in this country. His (Mazoka's vision) and that of his colleagues lives in all of us here. Thank you to the Mazoka family; I know too well the sacrifices that you made then and I know too well the sacrifices that you continue to make."
He eulogised Mazoka's widow, Mutinta, who is Pemba UPND member of parliament, saying she was "more than a member of parliament."
Hichilema also catalogued the UPND''s electoral penetration in areas where it initially had negligible support.
He also said "UPND is not mine" but that it belonged Zambians.
"There is room for everyone," Hichilema said.
"It's not mine neither is it yours. We are just custodians for this period of time. I just want to thank members of the UPND for your confidence (in him) to run an opposition party, which is a very difficult task."
He urged the UPND membership that now was not time to relax but to work harder.
"We shall overcome; it's a matter of time. We are not done yet – there is a lot of work to be done. This is not the time to slacken [but] the time to re-double our efforts, all of us," said Hichilema.
"I want to be honest with you; there are many times I self-critic and I say 'HH you are not working hard enough.' We are letting the people of Zambia down – we need to work harder. Otherwise the sufferings of our people will be elongated more than what is necessary."
National Restoration Party (NAREP) president Elias Chipimo, his vice-president Charles Maboshe, Patriots for Economic Progress's Sean Tembo, People's Party's Mike Mulongoti and New Labour Party leader Fresher Siwale were among prominent people who attended the event.
Others were former secretaries to Cabinet Dr Sketchley Sacika and Leslie Mbula, among others.
THE MAST