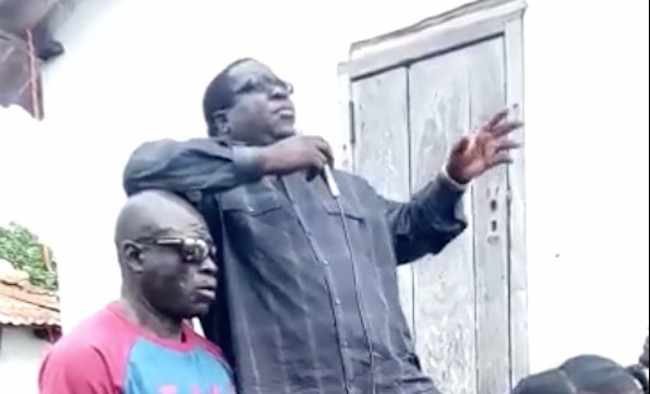 Chishimba Kambwili has no backbone and is just surviving at the mercy of the courts which he is now abusing to remain in power and continue drawing a salary and other allowances from Parliament, PF deputy secretary general Mumbi Phiri has said.
Commenting on Mr. Kambwili's decision to appeal against the High Court's decision to throw out his appeal against his dismissal from PF, Ms. Phiri yesterday branded the Roan MP a coward who could not allow a by-election to take place in his constituency because he knew he stood no chance to win and therefore hiding in legal processes.
She said Mr Kambwili was not only politically impotent, but also that Parliament was the source of his bread and butter despite bragging that he had a lot of money to enable him go oversees just to have breakfast. She said she was surprised that someone who had been claiming to be a political heavyweight could chicken out of the impending by-election by running around like a mad man to seek court protection. She said the supersonic speed at which Mr Kambwili had rushed to the Concourt to protect his parliamentary seat had exposed him to all the lies and claims he was making about his political mantra and the source of his financial muscle. "How can he claim that he is giving the PF sleepless nights when he is surviving at the mercy of the courts? This clearly shows that he has no backbone.
He cannot stand on his own and win."It is laughable that people who can afford to travel and have breakfast in England and have supper back in Zambia can stick to getting allowances from Parliament.
"The good part is that Zambians are seeing that Parliament is the source of bread and butter to those who claim to be more popular than the PF and to have more money. This is why they can still cling to Parliament at all costs as if it is a matter of life and death," Ms Phiri said.
Meanwhile, Mr Kambwili on Thursday evening came under fire in a barrage of social media comments after he announced his decision to challenge the High Court decision over the matter by appealing to the Constitutional Court.
Within an hour after making the post on his Facebook wall, Mr Kambwili drew over 500 sharp reactions from his followers, most of which questioned his popularity and wondered why he was rushing to court to protect his seat yet he was claiming that he was a political heavyweight.
Lusaka Times