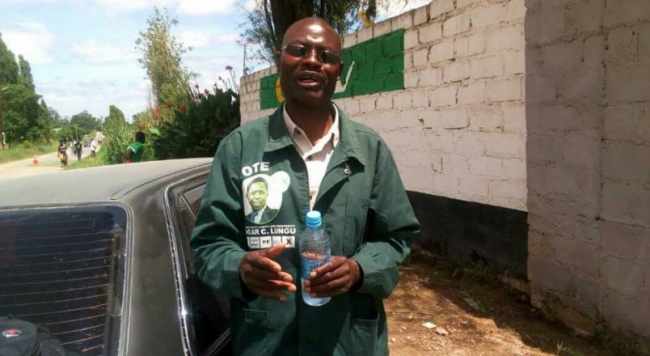 Patriotic Front (PF) Choma District Chairperson says he is a serious political leader than Choma Central Member of Parliament Cornelius Mweetwa.
Peter Kampamba was responding to the Law maker who had alleged that the PF official should make it known if he has nothing serious to do other than claiming United Party for National Development (UPND) supporters treat Hakainde Hichilema like a god.
The District Chairperson has also stated that he is not a drunkard who just drinks Chibuku in Manchinda compound as alleged by Mweetwa but a productive person who is running Choma and Mbabala Constituencies respectively.
Kampamba further says Mweetwa should utilize public platforms wisely and focus on serious matters of importance to people.
He has maintained that he was in a sober mind when he said HH supporters treat him like a god and will still repeat the statement as it is an independent opinion.
On Monday, Mweetwa castigated the PF District Chairperson for alleging that UPND supporters treat their leader like a god.
Mweetwa said Kampamba should concentrate on looking for a proper job than making utterances that cannot benefit the people of Choma.
The Choma law maker who was asked to respond to the allegation made by the PF District boss on Byta FM's Hot Potato programme, called on Kampamba to concentrate on talking about real issues than engaging himself in cheap politics.
Mweetwa also dared Kampamba to approach him so that he can find something constructive for him to do than spending most of his time drinking opaque beer famously known as Chibuku in Choma's Manchinda area.
The Member of Parliament bragged that unlike Kampamba, he has a lot of real issues affecting about 47 thousand people who voted him into office to attend to and he cannot waste his energy to respond to people like Kampamba whom he does not even know.