President Edgar Lungu this morning joined hundreds of congregants from the Anglican Cathedral of the Holy Cross in celebrating 40 years collaboration between the diocese of Zambia and the United Kingdom.
Speaking shortly after the service, President Lungu made a passionate appeal to the Christian community to join the political arena.
The President noted that Christian influence will bring decency to the political arena.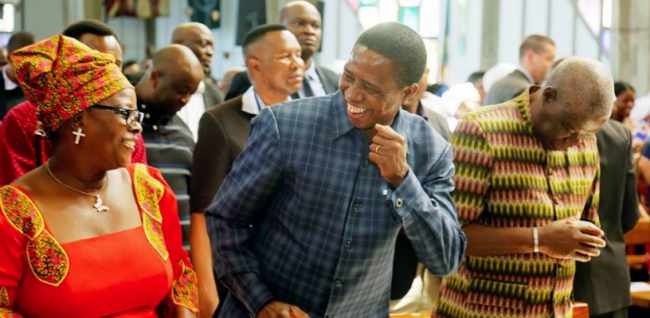 President Lungu observed that the non-involvement of Christians in politics has contributed to divisions in the country.
He wondered why Christians shun politics when politicians are drawn from different churches organisations.
President Lungu expressed optimism that the full participation of Christians in politics will make Zambia a better country.
The President urged the church to continue partnering with government by offering advice and guidance in the affairs of governance.
President Lungu also urged politicians to emulate the collaboration exhibited by the Anglican Church of Zambia and the Diocese of UK.
President Lungu counseled politicians to leave in harmony instead of destroying and dividing the country.
He said there is no need for politicians to demonize each other.
"Bring Christ to the political arena." President Lungu appealed.
Meanwhile President Lungu mesmerized the congressional when He energetically danced during the praise and worship service.
The congregation raptured in praise as they were overwhelmed with President Lungu's participation in the singing and dancing of Christian songs.
President Lungu was accompanied by the First Lady Esther, National Guidance and Religious Affairs Rev Godfridah Sumaili, Presidential Affairs Minister Freedom Sikazwe and other senior government officials.
The service was characterized with bible readings, poems and Christian hymns.
And delivering homily to the fully parked church service, Bath and Wells Diocese Bishop, Right Rev Peter Hancock implored congregants to continue reflecting the love of God to the world.
The clergyman observed that the world is in dire need of God's love as evidence from the turmoil in many parts of the world.
He implored congregants to shine there light in various communities by following the footsteps of Christ.
Bishop Hancock said people should be able to see the glory of God through.
He described the 40 years partnership has beneficial and edifying.
Speaking at the same service, National Guidance and Religious Affairs Godfridah Sumaili thanked President Lungu for accepting to attending the 40 years celebration
Lusaka, April 29, 2018, ZANIS