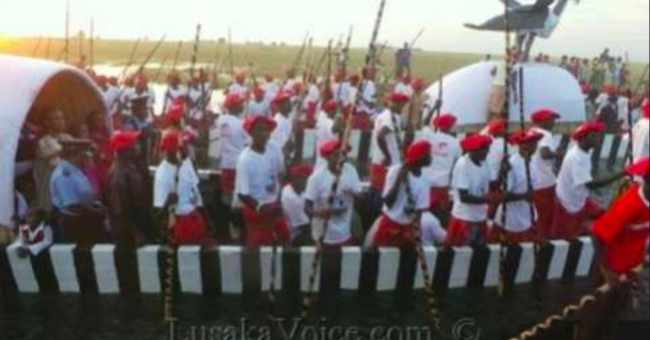 The Barotse Royal Establishment (BRE) has postponed the Kuomboka traditional ceremony of the Lozi speaking people of Western Province from the 21st to the 28th April, 2018.
In a statement issued to ZANIS today, BRE Representative Induna Katema Aketata Batunda, disclosed that the change has been necessitated to allow the Kuomboka Kufuluhela Committee to prepare adequately.
"I wish to repeat that the date for this year's Kuomboka ceremony has been changed from the 21st April to the 28th of April 2018 to enable the Kuomboka –Kufuluhela committee prepare thoroughly and complete necessary tasks and obligations," he said.
BRE Representative Induna Katema said the preparations of the ceremony were receiving overwhelming responses from both the local and international communities.
Induna Katema apologized to all well-wishers for any inconveniences the adjustment would cause.
Meanwile the BRE has expressed disappointment with the infamous dark city boys who have been terrorizing residents of Mongu district in Western Province.
Induna Katema said the behaviour being exhibited was uncalled for and strange to the cultural of the land.
He said Zambians are known to be peaceful and trustworthy thus the disturbances emanating from the notorious group were a source of concern.
Induna Katema cautioned the group perpetrating violence to desist from the behaviour stating that police were on the ground to bring the culprits to book.
He expressed hope that the Kuomboka ceremony which has been pushed to the 28th of this month as announced will be peaceful.
And police in Mongu have assured the public that they are conducting patrols and will intensify police presence to ensure that the situation is addressed and culprits brought to book.
Earlier this week Police arrested 9 boys between the ages of 17-18 from the group after disrupting learning and forcing a number of schools to be closed in the district on Monday.