Police arrest South Africans accused of smuggling Zambia's Sable antelopes that fetch millions in that country
The seven suspects, six South Africans and one Zimbabwean national that were last Friday arrested by the Zambia Wildlife Authority for attempting to smuggle wildlife to South Africa yesterday appeared in count in Monze for the plea.
They appeared in court on charges of illegal possession of firearm, ammunition, forgery, giving false information to investigation officers and they all denied the charges.
ZAWA officers on Friday smashed an alleged endangered wildlife smuggling syndicate, arresting six South Africans and seizing a specially equipped light aircraft, vehicles, weapons and veterinary drugs.
The men detained include hunters and game capturers from Gauteng, Limpopo, KwaZulu-Natal and North West.
They were arrested in a military operation in southern province near Lake Kariba.
Zambian air force personnel and ZAWA officers arrested the six South Africans and a Zimbabwean as they were allegedly off-loading 12 sable antelope calves from a trailer and preparing to put them into a Piper Navajo Chieftain aircraft, parked under trees near a dirt landing strip in the bush.
Each of the animals can be sold for about $1-million.
The suspects who were nabbed at Katokota airstrip in Gwembe include six South African national and one Zimbabwean.
One of the suspects was identified as Francial, a wildlife relocator who said he had come to Zambia to search for greener pastures.
The suspect said they were moving the animals from Lusaka to a ranch in Livingstone, but ZAWA officers suspected there was some anomaly in the reason given. Francial said he didn't know the place he was taking the animals to, he just knew the source herein being Swanvest, at Kyindu Farms. They had an animal movement permit which had some inconsistencies.
Other suspects include Damia Leroux, a driver aged 25 of age. The other is Peter Burger, also driver who said he had no idea where the animals were going but they know where the animals were coming from. Peter Schalk Grobler 32, the manager, said that he just knew Yaku from Swanvest, where the animals were coming from and did not know the place he was taking the animals to.
Munyaradzi Tapera, 36, general worker from Zimbabwe said he had no idea and was working under instructions.
The animals were delivered and released into Munda Wanga sanctuary for observation and rehabilitation. However, five antelopes have died so far due to stress.
Zambian authorities claim the pilot of the aircraft, which is said to be owned by a Pretoria game company, did not file flight plans, failed to declare the cargo and had not cleared customs.
South African Civil Aviation Authority spokesman Kabelo Ledwaba said pilots were required to file flight plans.
"Any noncompliance with South African civil aviation regulations will be investigated." The Times Newspaper of South Africa claims that until last month the aircraft was registered to Unique Air. It was then sold to Phofolo Small Game Specialists.
Unique Air operations manager Thomas Nel confirmed the sale, saying that the aircraft had been owned by Unique Asset Hire and operated by Unique Air Charter.
"It was maintained by Aircraft Maintenance International. The aircraft was sold on September 28 by Aircraft Maintenance International, with the sale concluded on September 29. The new owners have 30 days in which to register the aircraft in their name."
He said Unique Air Charter, Unique Asset Hire and Aircraft Maintenance International had no knowledge of the aircraft's movements after it left Nelspruit, where it was handed over to its new owners. Johanna Grobler, of Phofolo Small Game Specialists, denied owning the aircraft but declined to comment further.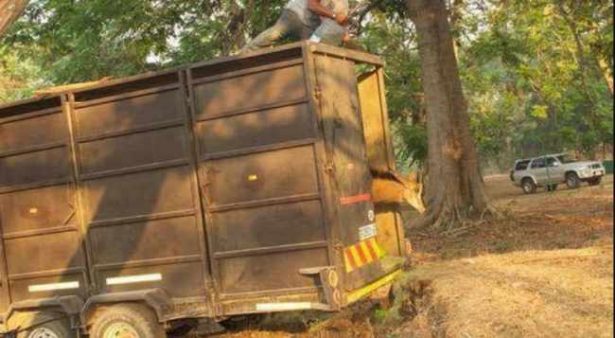 The two pilots, who are South African, are being held at Woodlands police station in Lusaka. The others, including two Pretoria brothers, are at a police station in Monze. The brothers' father last night said the situation was a "complete misunderstanding".
"My sons are not criminals and are definitely not game smugglers. I have spoken to them. They are in good spirits and holding up under the circumstances."
He would not comment on why the animals were reportedly being loaded onto an aircraft at a remote airstrip.
Sakabilo Kalembwe, a Zambia Wildlife Authority spokesman, said that when the South Africans entered the country on October 5, they aroused suspicion because their permits stated that they were in the country to fish but they were found to be carrying dart guns.
"Who goes fishing with dart guns?" he asked. "Our authorities flagged them and alerted the game reserves and law-enforcement authorities. Believing that the men might be involved in wildlife crimes, their movements were monitored," Kalembwe said.
"Information we have shows this is not the first time that these men have been involved in these kinds of activities. We followed them to a ranch where 40 sable antelope were being kept. We watched them load the 12 animals, five of which have subsequently died, into a trailer and drive off. They were meant to go to Livingstone, but didn't."
The men were arrested at Korta, in the Gwebe district.
"When the suspects realised that they were surrounded, they threw away a handgun and ammunition. We recovered these along with tranquillisers and the dart guns."
Kalembwe said the possibility of the use of the aircraft in other smuggling operations between Zambia and South Africa was being investigated.
"This is the most complex wildlife smuggling syndicate, which involved a specially fitted aircraft, that we have uncovered." Kalembwe said the Zambian and South African authorities were collaborating on the investigation.
Kalembwe said the animals had originally been bought at an auction but no permission had been granted for them to be exported.