We are an ambitious combined Zambia and Zimbabwe team running for Save the Rhino International at the London Marathon in April 2018. The Zambia runners all live and work in North Luangwa National Park, where black rhinos were successfully reintroduced in 2003, and the Zimbabweans hail from Gonarezhou National Park, https://www.justgiving.com/fundraising/gonarezhou-conservation-trust, where rhinos have the dubious distinction of becoming locally extinct twice, but where there is a goal of reintroducing them to the Park in 2019. The Zambians and Zimbabweans will be fundraising separately in the spirit of some friendly rivalry, as well as to draw attention to the specific needs and aims of their respective rhino projects. Each will aim to raise £6,000 for Save the Rhino International as a contribution to their amazing work.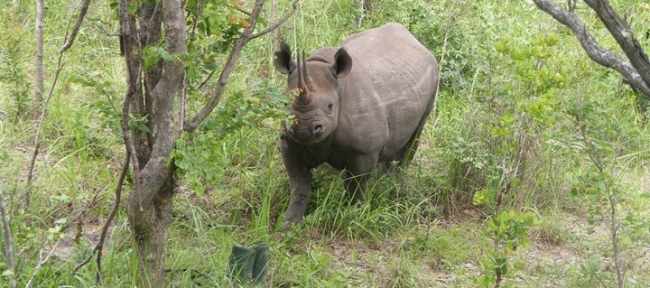 We are also hoping to raise an additional £10 000 for the North Luangwa Rhino and Elephant Protection Unit (REPU) to enhance their ability to maintain the zero poached status achieved to date, by enhancing the unit's ability to traverse the expanding rhino area throughout the 6 month rainy season by constructing vital infrastructure (small bridges and bed level drifts), the construction of a strategically located REPU out post, and the purchase of cameras to support rhino monitoring.
This builds on the back of donations raised in last year's London Marathon by Ed Sayer, the North Luangwa Conservation Programme's Project Leader, when he raised funds for Save the Rhino International and for a solar water pump, tank and stand for the REPU rangers.
This year Ed will be running as part of the Zambian team with two senior rhino monitoring rangers – Paimolo Bwalya and Cosmas Ngulube. Their tireless efforts covering the entire rhino range day, come rain or shine, day in / day out, combined with their intimate knowledge of each rhino, their territory, social associations and secret hideaways, is critical to the ongoing protection of the population.
The fourth member of the team is Benjamin Van Zyl, who is the technical advisor for the North Luangwa K9 Detection and Tracking Unit, which has achieved considerable success across the region securing more than 140 wildlife crime related arrests in little over two years.
We will be updating you on the team members epic journey all the way to the finish line. Follow their story on the North Luangwa Conservation Programme Facebook page.
A brief history of black rhino in Zambia:
North Luangwa National Park (NLNP) is a vast wilderness in northern Zambia, forming part of the famous Luangwa Valley ecosystem, which historically was home to the largest surveyed elephant population (>100,000) and third largest black rhino population (2,000-4,000) on the continent. But the poaching scourge of the 1970-1980s decimated the elephants and reduced rhinos to zero; they were ultimately declared nationally extinct in 1998.
The North Luangwa Conservation Programme (NLCP) is a partnership between the Zambian Department of National Parks and Wildlife
and the Frankfurt Zoological Society, and has been supporting protected area anti-poaching activities since 1986. Following years of technical support and capacity building to improve security an ambitious reintroduction project began in 2003 to bring black rhinos back to NLNP. By 2010 twenty five black rhinos had been translocated, into an intensive protection zone, patrolled by the REPU rangers.
The REPU rangers complete annual training courses, and are equipped with the necessary uniforms and kit for them to be effective in their task of protecting the Park's wildlife and habitats. This has contributed to the reduction of poaching as well as an increase in motivation and ranger skills. Sustainable funding has also allowed NLCP to
not only have a positive impact on security in the Park and its surrounding Game Management Areas, but on all
aspects of community based conservation.
But NLCP can never rest on its laurels while the demand for ivory and rhino horn remains a threat. A huge amount of work needs to be done to make sure all the necessary infrastructure and additional security is in place to keep this piece of rhino paradise a reality. Running the London Marathon is important to us to raise funds but also awareness of one of the world's greatest animals. Thank you for your support.
Donating through JustGiving is simple, fast and totally secure. Your details are safe with JustGiving – they'll never sell them on or send unwanted emails. Once you donate, they'll send your money directly to the charity. So it's the most efficient way to donate – saving time and cutting costs for the charity.