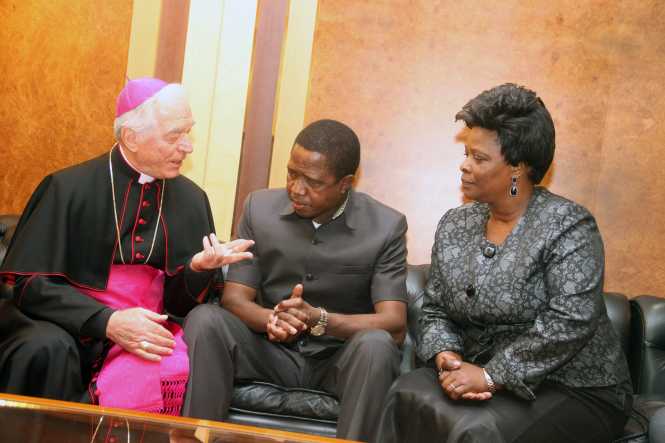 President Lungu has said that he is President today only because God allowed it to happen.
Speaking when he attended church service at the UCZ Chimwemwe congregation this morning, he stated that he was always going to be available to the church and was ever ready to heed its advise and counsel.
"For me, I will always make Myself available to the Church. Because I believe am here only because God allowed it. This is very important. I believe am here because God allowed it. And in his own wisdom and grace, he will use me the way he wants to." He said.
And the President stated that as a human being he was bound to make mistakes and sometimes fail and it was the role of the church to provide him with counsel.
" The same should be done to all those that aspire to become Presidents in whatever form. I never knew I would be President. But here Iam . I never knew I would be a successful story. But here Iam. I consider Myself a Success because no one believed in me but God did." He said.
And President Lungu expressed disappointment with the type of politic's some players were practicing.
" You have told me not to listen to what People say. But am only human. last week I was told there is no rain in Zambia because PF has got wrong policies. Today we have got floods all over Zambia. I dont know whether the floods are because of wrong policies in place." He said amidst laughter from the congregation.
He stated that he was happy that he had been encouraged to ignore the detractors but that he had however chosen not to ignore.
" Ifyo balanda fyonse, ndomfwa. Nangu bantuke ndonfwa nomba nsalapofye ifya mano. I want to make it very clear that I hear all the voices especially when they are coming from people who think they are very clever. But I only pick those sentiments that will help me in My Job as President." He said.
" Fyonse ifya mano, ndonfwa. nomba ifya buwelewe ndabakofye." He added.
He urged the Church to call upon all those that were practicing cheap politics of malice and advise them to be better.
" By the same token, those who are bringing confusion in the political arena in the name of fighting for political office and power, Ngaba chilamo, Mwabeta mwabeba ati ikaleni panshi. Mwala onaula umutende wa chalo. " He said.
" A foolish person can destroy peace and the rest of us law abiding citizens will remain suffering. Because we have not stopped that person at the right time. You need to call these people some of the time and say, politicking is allowed but you have gone too far. Because the consequences will affect everyone including the innocent People. " He said.
In conclusion, the President stated that it was now time to work hard for the People of Zambia.
" Most importantly, am available to be guided by the People of Zambia. The vision I carry is that which inspired the People to vote PF in 2011, 2015 and 2016. Its not my Vision. Who am I? Ala amano ma mbulwa. If you think you are very intelligent, then you are the most dull person. Nemfumu shilakwata ba Kabilo. Ama Headmen nama Induna. And I think naba President balikwata. Naba bishop balikwata. Bonse twalikwata. Nomba nga tauleunfwa kubantu, ninshi takuli eko uleya iyo. I will listen to what God is saying." He said
PF