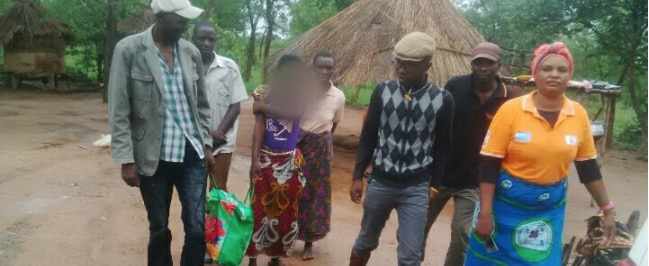 Simudima village in Pemba district of Southern Province was yesterday caught in suspense as frontiers of ending child marriage in Southern Province invaded the village following a recorded case of child marriage involving a 16 year old Grade 7 pupil of Simudima Primary School who was eloped in December, 2017 before she could receive the good news her passing the Grade seven exams of 2017.
Musokotwane Compassion Mission Zambia – MCMZ and its partner Choma One Stop Centre yesterday Saturday, 10th February, 2017 retrieved a 16 years old child learner of Simudima Primary school in Pemba district.
Particulars are that after writing her Grade 7 exams in 2017, the former child bride was eloped in December 2017 and stayed in marriage up to the 10th February 2018 the day she was retrieved. She said she accepted eloping with her until yesterday husband citing poverty levels and lack of anyone to take her back to school.
Musokotwane Compassion Mission Zambia (MCMZ) whose mandate is to confront acts of child marriage in Southern Province has warned that the organization and its partners will stop at nothing to ensure that girls are retrieved from the scourge of child marriage.
MCMZ Executive Director, Sibbuku Genious Musokotwane who was speaking in Simudima village of Pemba district said child marriage is detrimental to children's proper development as it deprives them of their health, education and economic opportunities.
He added that girls must be left to be girls as such will widen their health and education chances and them contributing to Zambia's economic development.
Mr. Musokotwane added that ending child marriage is very key to accelerating the implementation of the 7th National Development Plan (7thNDP) and Zambia's attaining the status of a sustainable and prosperous middle income country by 2030.
Mr. Musokotwane further thanked MCMZ partners, Choma One Stop Centre and Southern Division Zambia Police Headquarters for being key players during the operation.
He said ending child marriage is a daunting challenge that calls for collective efforts of all stakeholders.
He announced that the girl will bounce back in class through MCMZ education sponsorship program for girls retrieved from child marriage, a gesture that sent the girls' poor mother in tears of joy.
He added that his organization will engage government and various partners to ensure that the girl's basic needs are met through to her tertiary education.
And administrator to the retrieved child bride's family, Mr. Average Mweetwa of the Kasiya village in Pemba district thanked Musokotwane Compassion Mission Zambia (MCMZ) for giving his family's poor widow a new song.
Mr. Mweetwa who was instrumental in leading the entourage to where the girl was on the particular day added that he will take it upon himself to sensitize his fellow community members against child marriage describing what had happened in their village as the first of its kind charging that since time memorial they lived in darkness of law against child marriage.
And Choma Stop Centre councillor, Ms. Matildah Munsaka clad in "Stop GBV" orange T-shirt said sending children to school is one way families can escape subjecting the girl child to violence and discrimination.
Choma Daily News