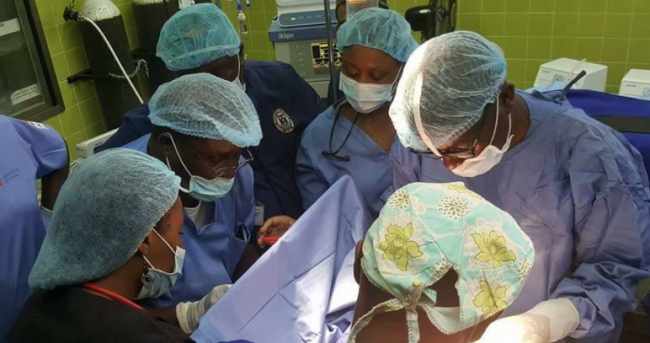 UPDATE FROM UTH ON THE SIAMESE TWINS
==============
UTH says operations is still underway*
UTH says the premature statement circulating that the medical operations of the conjoined twins is complete is not true.
UTH says the operations to separate the twins is now at *30% complete*.
UTH is engaged in its first historical operation to separate the twins conjoined at the stomach.
Below is the statement
"UTH would like to inform members of the public to ignore all posts currently circulating on various media platforms concerning the Siamese twins."
"An official statement wiil be made at the appropriate time by the hospital.
Public Relations Officer – UTH"
---
ORIGINAL POST WAS on Patriotic Front – PF, FACEBOOK PAGE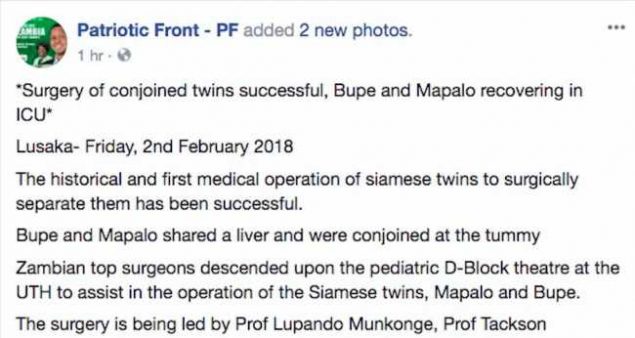 The historical and first medical operation of Siamese twins to surgically separate them has been successful.
Bupe and Mapalo shared a liver and were conjoined at the tummy.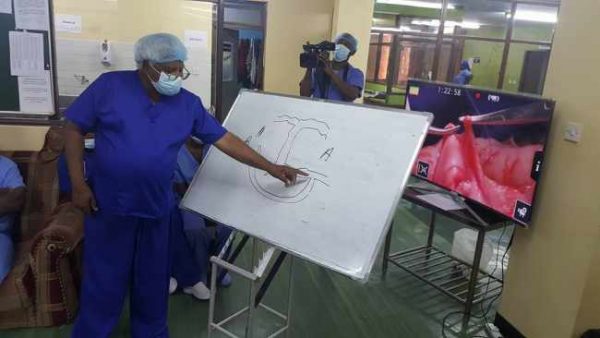 Zambian top surgeons descended upon the pediatric D-Block theatre at the UTH to assist in the operation of the Siamese twins, Mapalo and Bupe.
The surgery is being led by Prof Lupando Munkonge, Prof Tackson Lambert, Dr Chadwick Ngwisha and Prof Sultanov.
Others include Senior doctors Prof James Munthali, Dr Penuis Tembo and Dr Mwanahamutu.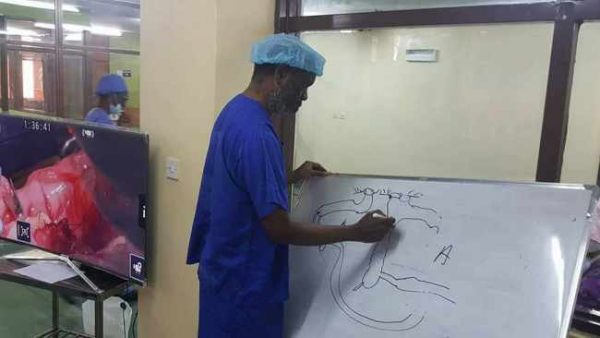 The front line surgeons, led by Dr Bruce Bvulani also include Dr Robert Zulu, Dr. Vernon M Pashi and Dr Mulenga Mulewa, Dr Dilbur and Dr Brown-Oranmore Ray.
Anesthesia is led by Dr Christopher Chanda, Dr Feruza Ismailova, Dr Dildora, Dr Sompwe, Dr Zubair and Dr Mumpasha.
Sisters are led by CNO Josephine Chimpinde, Sister Peggy Mashikati, Rebecca Kamboyi, Lucy Nampungwe, Felix Kamuchungu and Yvette Chulu.
The floor staff includes Richard Siambilu and Gift Mudenda.
The seven-hour surgery has since finished and the infants are recovering in the pediatric intensive care unit.
DURING THE SURGERY Dr. Kachinga Sichizya wrote:,
Happening at the UTH now: Separation of the Siamese twins.
On-going consultations between the operating team of Dr Bruce Bvulani and Dr Robert Zulu and the Senior consultants Dr Chadwick Ngwisha, Prof Lupando Munkonge and Prof Tackson Lambert. Meanwhile Dr Penius Tembo is doing a Cut-down. So far so good. Glory to God.